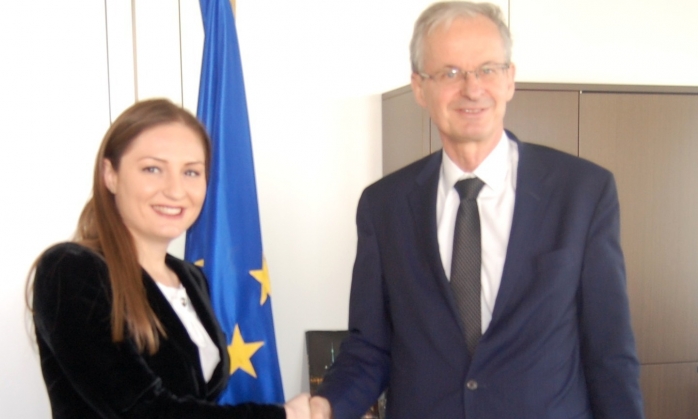 Tirana, 1 March 2016/ Independent Balkan News Agency
The Albanian government is engaged in all possible ways to achieve the opening of talks with the European Union, by aiming to be issued a date but also the accession in a matter of years.
During a visit to Brussels, the Minister of European Integration Klajda Gjosha assured the EU Enlargement Commissioner, Johannes Hahn that all the structures in the country, but also the meeting of the high level dialogue which will be held soon, will be driven toward the objective of being granted a date for the launch of negotiations. Gjosha declared that the board for the opening of negotiations, led by the Prime Minister, is rigorously monitoring the plan of measures drafted for the five priorities in order for all the tasks set out for the Albanian government to be delivered within deadlines.
Albanian minister and EU commissioner Hahn have praised the importance of the reform in the justice system. Gjosha assured him that the government is determined for a deep and consensual reform in the justice system. Commissioner Hahn reminded her that this reform is crucial.
In the meeting with the General Director for Enlargement, Danielson, the two interlocutors praised the progress that has been made and stressed the importance of approving the reform in the judiciary system as soon as possible. Mr. Danielson demanded cooperation between the sides, being crucial for the advancement of the European agenda.
On her part, minister of Integration said that the launch of talks would act as a stimulus to further advance with the process, but at the same time, to also guarantee a more effective monitoring of Albania by the European Commission.
Minister Gjosha has also met with MEP Fleckenstein with which she talked about the resolution of the European Parliament on Albania, which is being drafted by him. Details on this resolution are not yet officially known. /ibna/