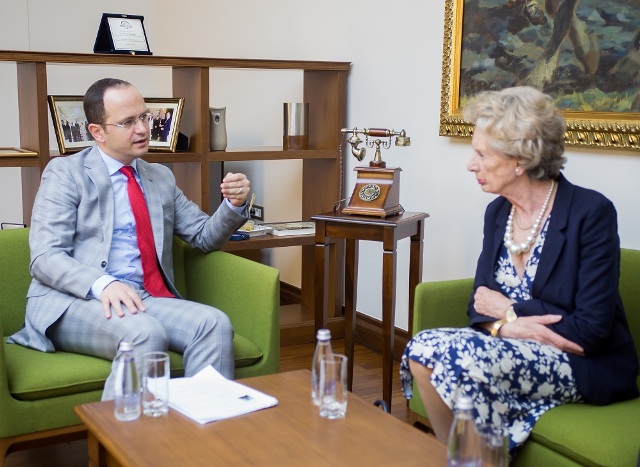 Tirana, 29 May 2015/Independent Balkan News Agency
Albanian Foreign Minister, Ditmir Bushati, received in a meeting today ambassador Audrey Glover, who leads the Monitoring Mission of OSCE/ODIHR for the 21 June elections in Albania.
Minister Bushati expressed to Mrs. Glover the engagement of the Albanian government to create the necessary conditions for a fair and honest electoral process, in line with international standards. Considering the elections as a proof for democracy, minister Bushati praised the expertise and recommendations of OSCE/ODIHR in reaching democratic standards.
On her part, ambassador Glover thanked the Albanian government for the invitation sent to monitor the elections and briefed minister Bushati on the work done so far by the Monitoring Mission and the engagements that lie ahead until election day. As far as the post-electoral activity is concerned, ambassador Glover stopped on the attention that the process of ballot counting and the calculation of the final results require.
The two participants shared their opinions about the characteristics of the local government elections and their importance at a time when the new territorial reform is being applied for the first time.
OSCE/OSCE monitoring mission for the local government elections of June 21 in Albania started its activity in our country on May 15, 2015. 20 long-term and 250 short-term observers will monitor all the phases of the electoral process, especially the registration of candidates, the activities of the campaign, the work of the electoral administration and state authorities, the electoral legislation and its application, media environment, the counting of votes and the announcement of the results. /ibna/