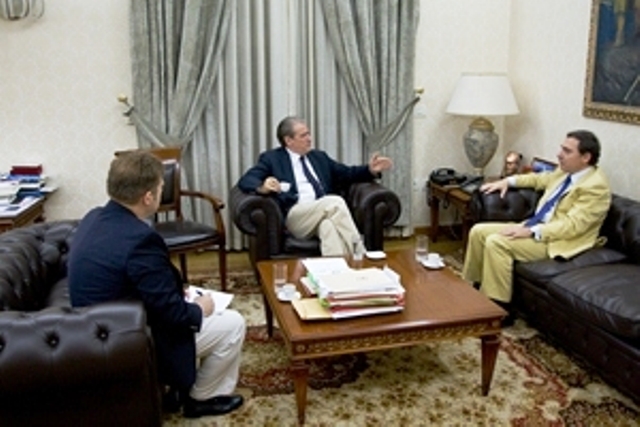 Tirana, July 9, 2013
The current government of the acting Prime Minister, Sali Berisha says that it wants to boost up relations and cooperation with Greece, which will serve to the best interest of both countries.
Prime Minister Berisha launched these declarations on Tuesday during a meeting (photo) with the ambassador of Greece in Albania, Leonidas Rokanas.
Ambassador Rokanas expressed to Prime Minister Berisha his gratitude and that of his country for his contribution and that of the Albanian government in boosting up cooperation between both governments.
Ambassador Leonidas Rokanas has also thanked Prime Minister Berisha for his extraordinary contribution in supporting the TAP pipeline project.
TAP pipeline was considered as one of the most important and strategic projects for both countries and the entire region, as this pipeline puts for the first time Albania, Greece and the entire region in the world map of energy, bringing an extraordinary positive impact for the economies of our country and wellbeing of people.
On his part, Prime Minister Berisha praised the relations that exist between the two countries.
"It's in the best interest of Albania and Greece to build excellent relations especially in economy and important investments", said Berisha. /ibna/