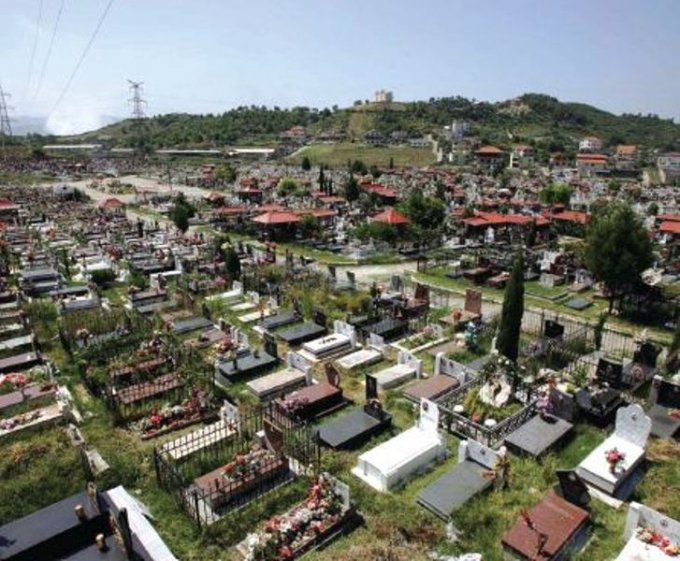 IBNA Special Report
Tirana, February 5, 2015/Independent Balkan News Agency
By Edison Kurani
The Albanian government has announced its decision to allow the opening of private cemeteries. This way, after the full privatization of funeral services, way is given to the construction of non public cemeteries. But, people perceive it as a legitimization of the cemetery business rather than allow private cemeteries.
Based on the decision, private cemeteries can be built not only on lands owned by individuals, but also on state owned lands. Burying in private cemeteries will be done in spite of the religious creed of the deceased, guaranteeing religious rituals each time this is requested.
The opening of private cemeteries was regarded by the Ministry of Urban Planning as the only solution, because capacities in public cemeteries, mainly in big cities, have been reduced significantly. In cities like Tirana, urgent measures for the expansion of cemeteries have resulted to be ineffective.
Based on yesterday's decision, private cemeteries can only be built in areas with at least 100 thousand residents and cannot be smaller than ten hectares. But, private cemeteries will also be allowed in isolated areas, in cooperation with municipalities and communes.
Religious communities can also build cemeteries
Based on the government's decision, burying from now on may not only be underground, but also through other means, such as burning in crematoriums, over ground burying in buildings where the remains of the deceased are placed, etc. Based on the law, a deceased person can only be burned if his identity is known.
With the new law, religious communities can also build private cemeteries. They can be built in lands owned by them. It's a known fact that religious communities in Albania have many lands and properties, a part of which are being restituted or compensated.
Thus, it seems that it's easier for religious communities to build private cemeteries. The Muslim and Orthodox communities own most of the lands, but lands are also owned by the catholic community.
The administration of religious cemeteries is done by the respective religious community or by private subjects, with which religious communities enter contracts for the administration of the cemetery.
But, the main question is: Will it be permitted for a Muslim to rest in a Christian cemetery and vice versa?
The new Albanian law says: "The burying of persons who do not belong to the same creed in religious cemeteries is done at the discretion of the religious community that administers the cemetery".
Meanwhile, as far as public cemeteries are concerned, the law says: "Burying in public cemeteries is done regardless of the religion of the deceased, guaranteeing the necessary conditions for the performance of religious rituals every time this is required".
Business with graves is being legitimized
The crisis that has affected many big cities of the country has led the government to think of alternative ways of placing the dead to rest.
There have been many occasions, especially in Tirana, where there have been difficulties for the expansion of cemeteries, because land owners near existing cemeteries demanded a high price or the government or local government had no funds for expropriation.
This situation made burying a business. Many people pay for a piece of land in order to bury their loves ones.
Kristo is 69 years old and lives in Tirana. He tells IBNA that he retired four years ago and the first thing that he did was to secure a grave for himself.
"I gathered some money and went to the cemetery. There, I talked to several people in order to decide who to pay to secure a place where I can rest once I die". Asked as to how much he paid, Kristo hesitated and said: "It doesn't matter, what matters is that I managed to find a solution".
There are many people like Kristo that act like this. Natasha is a 62 years old woman who lives in Tirana. She says that her husband had insisted on being buried close to her. "He asked around at the cemetery and they told him that if he wanted to be near his wife, he should secure a place in a plot of land away from the relatives. It was a difficult choice, because everyone wants to be near parents and other relatives", says Natasha. She says that 700 Euros have been paid to secure a place for a grave.
A 45 year old man who has been working at the cemetery of Sharra in Tirana for 10 years, told IBNA that there are many cases when people come in order to secure a place to rest. "They want to be near their relatives, but this is often impossible because there's no room. Then, they try elsewhere near their relatives".
The gravedigger doesn't say how much people pay to secure a place, but he just says that "they give something".
While talking to him, one learns that the grave business is not that simple. Several funeral agencies have turned into expensive businesses that circulate millions.
They will be the first ones to open private cemeteries, says the gravedigger, who works from morning to evening in the cemetery, caring and maintaining graves, every time people pay him some money.
IBNA asked a private funeral agency in Tirana about the cost of the full process. The figure started from 350 thousand ALL or 2500 Euros, which includes the preparation of the body, the coffin, transport, bus transport, decorations and the lunch. "Of course, the price may go up by ten times if quality or luxurious options are chosen, such as a high quality coffin, lunch in a renowned restaurant, full quality menu, etc", says a representative of a funeral agency in the capital.
The Albanian government has seen that informal purchases of burying places is a problem, therefore it legitimized the reservation of a grave.
According to the law, the contract of use is entered by the person himself before his death (grave reservation) or family members before or after the death of the person. However, the contract of use doesn't guarantee ownership of the place. The law says that "the time during which the deceased will rest in public, religious or private cemeteries shall be 15 years ". /ibna/