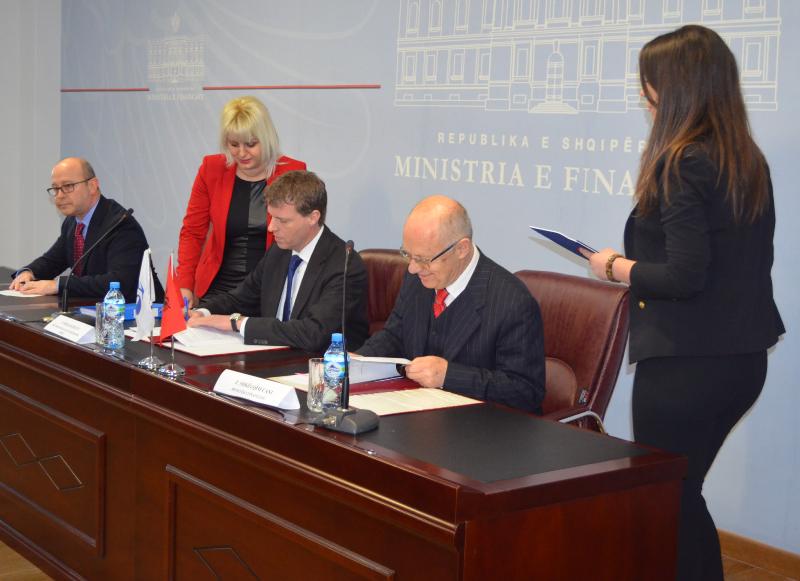 Tirana, February 3, 2015/Independent Balkan News Agency
Albanian Finance Minister, Shkelqim Cani, signed today in Tirana an agreement between the Albanian government and European Bank for Reconstruction and Development (EBRD) for the construction of the Vlora Bypass.
The grant amounting to 17 million Euros is allocated by the European Community through EBRD.
On behalf of EBRD, the agreement was signed (photo) by the director for Western Balkan, Mr. Holger Muent.
EBRD is one of the main partners in the development of infrastructure in Albania.
Last June, The Albanian government signed a deal with a value of 18 million Euros with the European Bank of Investments in order to secure the funding for the construction of the by-pass of Vlora.
The construction of the by-pass of Vlora is one of the priority projects of the government led by prime minister Edi Rama and is one of the most important promises made by his predecessor, Sali Berisha.
This by-pass serves to the most important road segment of the south of Albania. Its objective is to increase speed of circulation, free traffic congestions, increase comfort and security on the road and improvement of the environment  in the city of Vlora.
The project includes 29 km of new roads which are expected to provide an easier and safer access in the coastal road segment of the south of Albania. These roads will also remove traffic from Vlora.
The realization of this project as a junction in the north to south corridor is considered to be very important for the development of southern Albania, industrial development, tourism and will have an impact on agriculture for the transport of agricultural produces.
The economic feasibility of this project is high in all examined scenarios. The total planned cost is 53 million Euros, without including VAT. This value doesn't even include the feasibility study or the detailed study and the supervision.
The project is expected to be finalized in March 2017.
More: A 40 million Euro bypass to link the two main highways in Albania