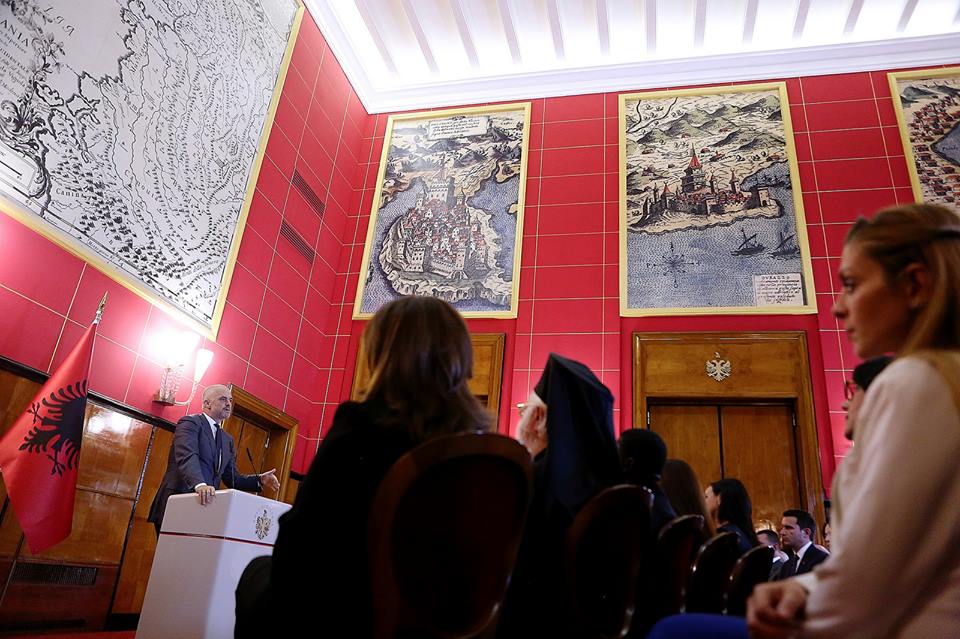 Tirana, October 10, 2014/Independent Balkan News Agency
Prime minister Edi Rama has called on the Catholic and Orthodox community to participate in the inauguration of the commencement of works for the construction of the new mosque of Tirana, which is expected to be the biggest one in the country. This public invitation was made by Mr. Rama during a meeting, upon the request of catholic authorities in Albania.
In this meeting (photo), Mr. Rama said that works for the construction of the much anticipated mosque for Muslim believers in the center of the Albanian capital will start in November 2014 and added that religious cohabitation is not a utopia.
"We are able to imagine it not like a utopia, but as something which we will soon live together, the laying of the foundations of the new mosque of Namazgja. I'm convinced that representatives of the Catholic Church, Orthodox Church and Bektashi community will be present".
Rama also invited religious communities to participate in the construction of the Big Masjid", said Mr. Rama, praising the work started by the late head of the Bektashi community, Reshat Bardhi.
Recently, there have been several incentives that aim to demonstrate with facts that harmonious cohabitation between Christians and Muslims in Albania.
Near Lac, in the village of Malbardh, commune of Milot, where over 90% of the residents are Muslim, the Catholics of the area built a mosque for the local believers.
The village has only 900 residents and only nine houses are inhabited by Catholics.
The residents say that throughout the years, the same gratitude has been expressed for the Catholics, where Muslims have helped in laying the foundations of the Church and its preservation.
In the village of Derven, in Kruja, Muslim believers helped in building a church for the local Catholic community. /ibna/