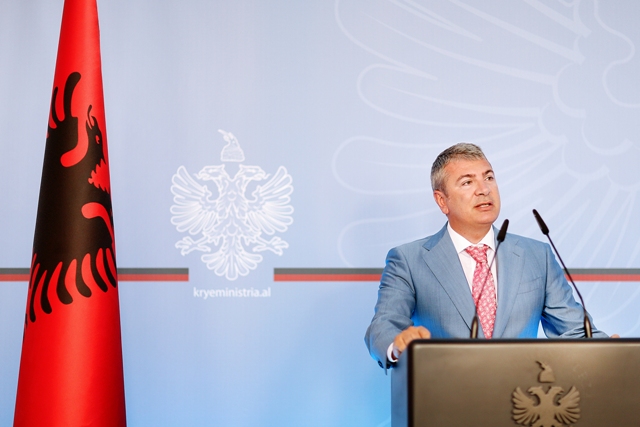 Tirana, 2 September 2015/Independent Balkan News Agency
By Edison Kurani
In today's meeting, the Albanian government decided to announce 62 dangerous mineral areas, mainly in Bulqiza and in Bater, in the northeast of the country. Permits will not be issued and mineral activity will not be allowed in these areas.
In Bulqiza, where there's chrome, no activity will be allowed in zone D, which is considered to be dangerous for the life of the workers.
The area of Bulqiza is the main one on the country for the exploitation of minerals, especially chrome, but also precious metals.
Minister of Industry, Damian Gjiknuri told IBNA that the identification of dangerous areas will increase safety for the life of miners.
He confirms that permits will be fully revoked when minerals are exploited in these areas and when mining is conducted in dangerous mineral areas.
He also said that that permits will be partially revoked when exploitation areas are located in a part of the dangerous mineral area.
"In total, there are around 18 permits, which will be revoked, in order to improve safety at work and in order to stop partial activity in the dangerous area", Gjiknuri said.
Gjiknuri says that by collaborating with State Police and the Work Inspectorate, these dangerous areas will be monitored and any illegal activity that threatens the lives of the citizens to be stopped.
In 2005, there were around 430 mineral permits. In 2013, there were around 800 mineral permits. Gjiknuri says that they were issued in a chaotic way and with an extreme fragmentation.
"The Democratic Party government was irresponsible in handling this industry, by doubling and dividing mineral areas in a criminal way", the minister notes.
In spite of the fact that accidents happen in the mineral industry throughout the world, this barbarian exploitation in eight years of right wing government deteriorated the situation, by claiming the lives of tens of miners, it threatened the foundations of safety at work, it caused many conflicts which made Bulqiza an Albanian Far West and this  dramatically increased the number of victims within and outside mines.
Minister Gjiknuri says that periodical controls have started these mineral areas for months now.
"We revoked over 200 mineral permits, which didn't comply with the technical criteria and didn't pay taxes, while 32 other permits are in the process of revocation. The activity of hundreds of other subjects has been partially suspended, until safety conditions are met", the minister says.
Minister Gjiknuri says that "through the legal adjustments that we made last year, we solved the conflict of passage ways in mineral galleries. We also removed the phenomenon of overlapping, by revoking 20 mineral permits".
Sources from the Ministry of Industry inform that this year, 119 abandoned galleries have been shut down while 64 others are being planned to be shut down.
Gjiknuri says that these measures and those that will be taken, will guarantee the improvement of safety, growth of investments, growth of exports and development of the mineral processing industry.
"The fact that the mineral sector is once again on the tracks of the law, it means more safety for the life of miners and also great benefits for the budget and Albanian economy", Gjiknuri said. /ibna/