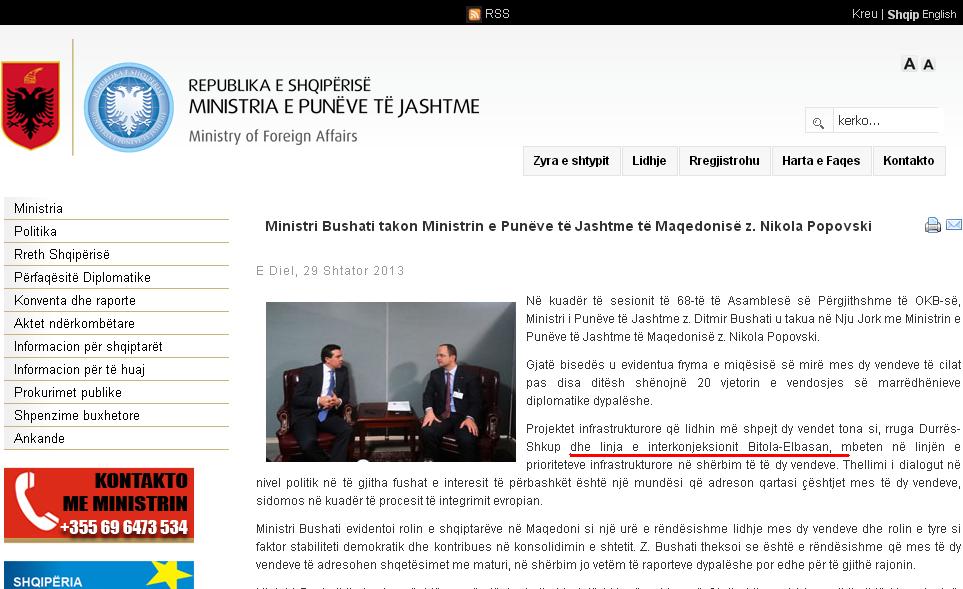 Skopje, September 30, 2013
To the Albanian Ministry of Foreign Affairs, the town of Manastir is known by the Slav name of Bitola.
This scandal appears in a press release of the Albanian Foreign Ministry regarding the meeting held between the new Albanian Minister of Foreign Affairs and his colleague from FYR Macedonia, Nikola Popovski in the framework of the 68th session of the General Assembly of UNO in New York.
This is the part of the press release where this name has been used:
"Infrastructural projects which connect our countries faster, such as the road linking Durres to Skopje and interconnection line that links Bitola to Elbasan, remain amongst infrastructural priorities which will serve to both countries. The intensification of political dialogue in all domains of common interest is a possibility that clearly addresses issues between the two countries, especially in the framework of the European integration", states the press release of the Foreign Ministry.
The news has sparked strong reactions in social networks, as the Albanian Foreign Ministry must not make such grave mistakes in the old Albanian names. /ibna/