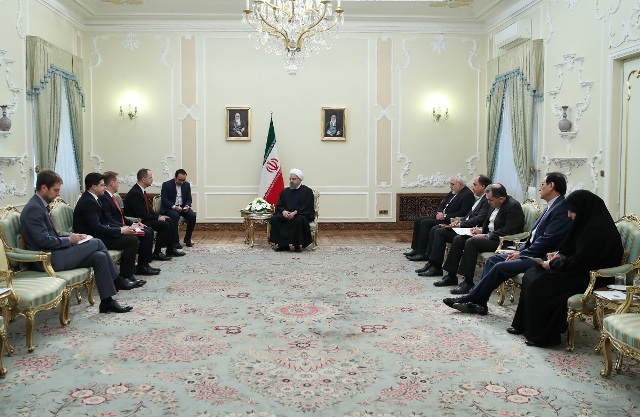 Albania's Foreign Minister, Ditmir Bushati has visited the Islamic Republic of Iran in a very rare visit by a senior Albanian official in the country which has triggered a world debate in relation to nuclear weapons.
Bushati said that he visited Teheran at the invitation of his Iranian counterpart, Mohammad Javad Zarif. This is the first visit of an Albanian Foreign Minister in Iran.
Bushati held meetings with the Iranian Foreign Minister, Zarif, President Rouhani (photo) and several other senior Iranian officials.
Bushati praised the role of the Iranian government and the President in reaching an agreement for Iran's nuclear program with international actors, as an agreement that serves security and peace in the world.
In the meeting between the two Foreign Ministers, a Memorandum of understanding was signed for diplomatic consultations.
In all of these meetings, Bushati asked the government of Iran to recognize Kosovo "as an important step for the strengthening stability in the region of Southeast Europe".
Both Teheran and Tirana consider this visit as a revitalization of bilateral relations.
Bushati's visit follows the world agreement that was reached on nuclear weapons and at a time when the world is very worried following Trump's declaration that he would cancel the agreement. /balkaneu.com/