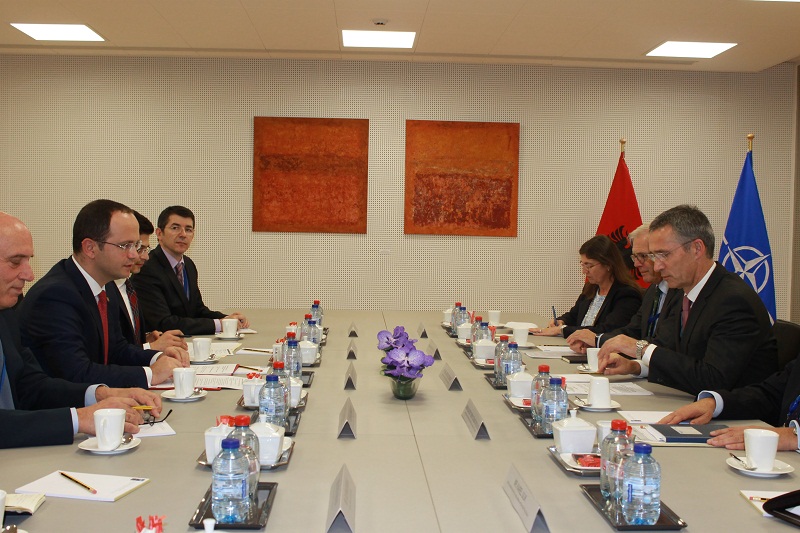 Tirana, November 14, 2014/Independent Balkan News Agency
Albanian Foreign Minister, Ditmir Bushati is in Brussels where he has had a meeting (photo) with the new NATO Secretary General, Mr. Jens Stoltenberg, who has just taken office as the head of the Northern Atlantic Alliance.
Sources from the Albanian Foreign Ministry told IBNA that this meeting has handled the issue of "threats and new challenges of the Euro Atlantic security, both from the east and the south".
Albanian authorities have not issued any further details about this issue. Nevertheless, they say that as far as this issue is concerned, the confirmation of the unity of the allies countries, shown in the Welsh Summit, has been considered as important.
In this context, minister Bushati and Mr. Stoltenberg valued the specific importance of further strengthening the Trans Atlantic league and the intensification of the cooperation of NATO with its partners.
The meeting between Bushati and Stoltenberg also discussed about the continuation of the NATO presence in Afghanistan. They said that the new NATO led mission, Resolute Support, will continue to help the authorities of Afghanistan to further consolidate peace and security in the country.
Another issue which was discussed in the meeting was the relation that NATO has with Kosovo. Mr. Bushati has considered KFOR's presence in Kosovo as very important. On the other hand, the Albanian Foreign Minister has demanded to the new NATO chief to have institutional relations with Kosovo. /ibna/