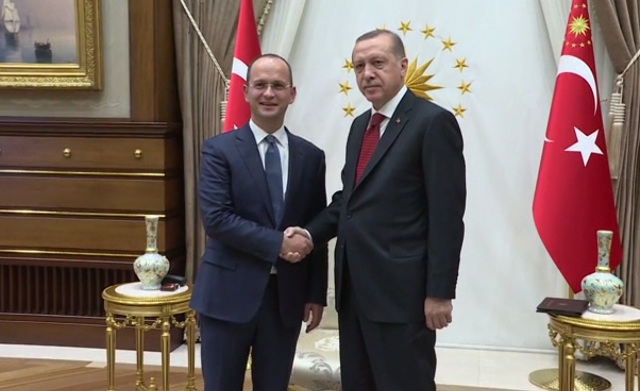 Nothing official was said about the talks between the Albanian Foreign Minister and senior Turkish officials on the structures that FETO organization has in Albania. This organization has been declared a terrorist organization by the Turkish state. Unofficial sources say that this has been at the focus of the talks. The Albanian Foreign Minister has also talked about the path that must be followed to destroy FETO's structures in Albania
Ankara, 27 October 2016/Independent Balkan News Agency
The Albanian Minister of Foreign Affairs, Ditmir Bushati is on an official visit to Turkey, where he was received today by the Turkish President Recep Tayyip Erdogan.
Albanian authorities said that Bushati and Erdogan discussed on the latest developments in Turkey and Albania and the situation in the region. Minister Bushati "expressed his solidarity and full support for the people and the government of Turkey in restoring constitutional order in the country".
This way, the Albanian Foreign Minister has reconfirmed the stance of the Albanian government to support Erdogan in this year's developments in Turkey, when the Turkish government said that it saw a coup d'etat, which was followed by strong measures that are still in place.  The support that the Albanian Foreign Minister expressed in Turkey was even more direct.
After the meeting with his Turkish counterpart, Mevlüt Çavuşoğlu, Bushati stopped on the latest developments in Turkey and strongly condemned "the attempt made on 15 July for a coup d'etat". Bushati praised "the determination of the Turkish people and their legitimate representatives to restore constitutional order in the country as soon as possible by the government which has been elected in a democratic way".
"We're convinced that a democratic, sustainable and developed Turkey is not only in the best interest of its people, but also a key factor for the prosperity and architecture of European security", said minister Bushati.
Nothing official was said about the talks between the Albanian Foreign Minister and senior Turkish officials on the structures that FETO organization has in Albania. This organization has been declared a terrorist organization by the Turkish state. Unofficial sources say that this has been at the focus of the talks. The Albanian Foreign Minister has also talked about the path that must be followed to destroy FETO's structures in Albania. /balkaneu.com/