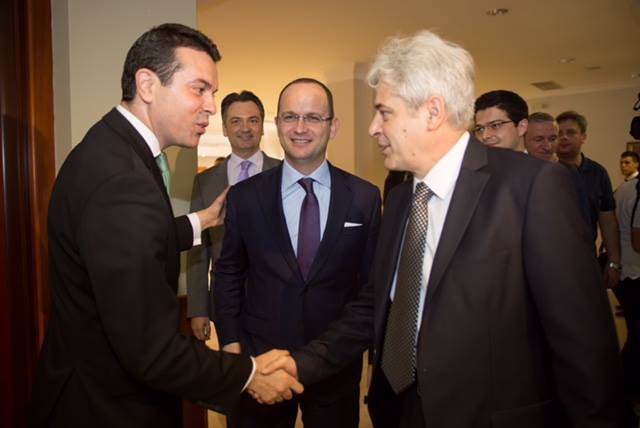 Tirana, 15 June 2015/Independent Balkan News Agency
The Albanian government launches a strong and clear message to Skopje, by warning the authorities in FYROM that without the full implementation of the Ohrid Agreement, there's no way FYROM is backed to become part of NATO, where Albania is a full member and also for the EU integration.
Foreign Minister of Albania, Mr. Ditmir Bushati issued this declaration in Ohrid, where he participated in the meeting of the Foreign Ministers of Central Europe Incentive member countries, in the framework of the Macedonian chairmanship of this incentive.
"Albania remains determined to back Euro Atlantic integration of Macedonia, which goes through the full implementation of the Ohrid Agreement, in the spirit and in each one of its points, and also in respecting the rights of Albanians as a state forming factor in this country", Bushati said.
Bushati issued clear criticism against the government of Skopje, when he said that the security of each country depends on the collective security of the region and "in this context, it's in our best collective interest for Macedonia to address the current political crisis as it should".
The minister said that what was achieved in 2001 between Albanians and Macedonians in FYROM, was not a simple formal document, but a long term vision. "The Ohrid Agreement cannot be seen as a simple formality. It consists of a long term vision, based on an authentic history of the peaceful co-existence".
During his stay in Ohrid, minister Bushati also held a meeting with the chairman of BDI, Mr. Ali Ahmeti and representatives of civil society.
During these meetings the participants talked about the latest political developments in FYROM, as part of the talks that are being held with EU negotiators.
Bushati has discussed with Ahmeti over the steps that are being taken for the solution of the political crisis and the need to advance the rights of Albanians in FYROM.
Bushati also noted the importance of developments in Kumanovo, stopping on the need to have a full and transparent inquiry. /ibna/