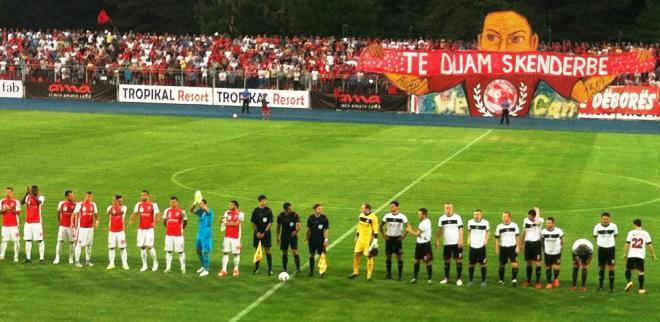 The football club from Korca, "Skenderbeu", wins against a Moldavian club, thus securing its participation in the Champions League play-off stage. The coach of the team, Mirel Josa: We realized not only our dream, but of all Albanians
Tirana, 6 August 2015/Independent Balkan News Agency
By Edison Kurani
For the first time in the history of Albanian football, a domestic club participates in the Play Off of the Uefa Champions League. It's the team from Korca, "Skenderbeu", the only Albanian team that managed to secure a spot in this important stage of the Champions League.
The club from Korca defeated Milsam 2 goals to nil in "Elbasan Arena", repeating the success achieved in Moldova in the first match of the third qualifying round, played a week ago. The goals were scored by Hamdi Salihi in the first half and Gerhard Progni in the second half.
This result will mean the participation of the champions of Albania in the Champions League group phase.
The team from Korca will first play the two Play Off matches and if they pass this stage, then it's off to the group stage, otherwise, Skenderbeu will play in the Europa League.
The coach of "Skenderbeu", Mirel Josa says that the victory against the team from Moldova was not easy. "We were not playing against an easy team. In front of us, we had a high quality team. However, we were the stronger side and managed to win".
Josa says that that this realized not only the club's dream, but the dream of all Albanians. "We realized not only our dream, but the dream of every Albanian. This success belongs to the players and the way this team is organized".
***
On Wednesday evening, the atmosphere in the stadium of Elbasan was full of excitement. Once the victory was confirmed, everyone was chanting: "Europe, here comes Skenderbeu!".
This brought back the legendary chants of the 1400 when Skanderbeg led Albanian armies against the Turks: "Here comes Skanderbeg!". /ibna/