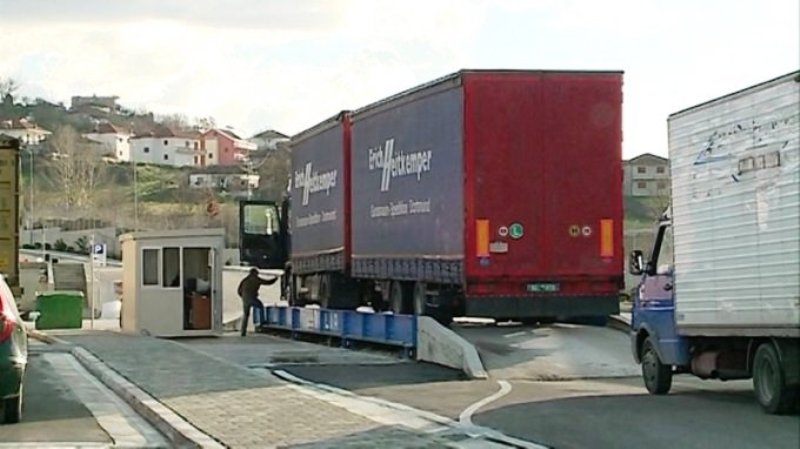 IBNA Special Report
Tirana, February 3, 2015/Independent Balkan News Agency
Albanian exports saw a 10% fall last year. Albanian Institute of Statistics says that in December 2014, exports amounted to 19 billion ALL, marking a 10,5% fall compared to December 2013 and a 10,4% fall in comparison to November 2014.
The largest annual fall was marked by: "Minerals, combustible substances, electricity" by 29,6%,  "Construction materials and metals" by 26,1% and "Wood and paper products" by 19,9%.
Some goods saw an increase. The biggest annual increase was marked by exports of "Machinery, spare parts and equipment" by 89,7%, "Chemical and plastic products" by 30,9% and "Leather and their products" by 28,7%.
Trade deficit in December 2014 is 35 billion ALL, marking a fall of 7,9% compared to December 2013 and an increase by 29,8% compared to November 2014.
Trade with EU countries occupies 65,1% of all trade volume. The main partners are Italy (35,9%), Turkey (7,0%), China (6,8) and Greece (6,5%).
Last year, exports saw the lowest growth since 2010, due to the significant drop in exports of energy and minerals.
Last year, Albania exported around 255 billion ALL. This amounts to 15% of the GDP and classifies Albania as one of the countries with the lowest weight of exports in economy.
In the four previous years, growth of exports in value has varied from 8,1% to 54%. According to the Bank of Albania, the slowdown of exports relates to the difficult situation in the Euro zone, which has reduced demand from abroad, but also developments in international energy market.
Experts assess export figures
Last year, Albanian exports saw the lowest growth since 2010, due to the fall in the price of oil and minerals in foreign markets.
Experts say that the dramatic fall of the price of oil and minerals in markets, which consists of the main group of products that Albania trades abroad, has led to a drop of 13,6 billion All in their exports compared to a year ago.
This is a significant effect which could be made up by the strong positive performance in the textile industry, the exports of which grew by 16,6 billion ALL.
Bank of Albania warns that even this year, there are question marks as far as foreign trade is concerned. If exports continue to perform slowly, then economic growth would be mainly supported by domestic consumption.
Business consultant, Ilir Ciko says that this is an indicator of the problematic structure of exports and economy in general.
"This is a traditional weakness of the structure of exports throughout the years, a diversification that leaves much to desire, a dependence on the demand in international markets for basic products such as minerals or oil, which occupy a significant place in our exports. We're open toward these markets and of course, we will either benefit or suffer from the developments in international markets in the future", says Ciko.
Energy products such as crude oil and minerals are the biggest group of Albanian exports, occupying 33,6% of the total. In a report published a few days ago, the World Bank predicts that their prices will continue to remain low even in 2015, something which can penalize Albanian exports. According to Ciko, exports will continue to perform poorly even in 2015. According to him, this will come as a result of the effects that had an impact in 2012, but also due to the domestic effects of the Albanian economy.
"Let us not forget the fact that we're in an election year and aggregate demand is low. All of these factors will lead to a poor performance of exports even this year", says Mr. Ciko.
Can the situation be improved?
Business consultant, Ilir Ciko says that Albania can reduce the consequences of these unfavorable conditions in the market of goods by exporting services, by benefiting from political developments in the region, and especially in Greece.
"In the recent days, the Greek government has announced austere measures for tour operators in the country and in a way or another, this can be seen as an opportunity for Albanian businesses to benefit this year and occupy that market which has been traditionally used by Greece", says Mr. Ciko.
According to experts, foreign investments also offer  an opportunity: "Another opportunity which remains to be seen in the months to come consists of foreign direct investments in the country, which may push the development of exports forward." /ibna/