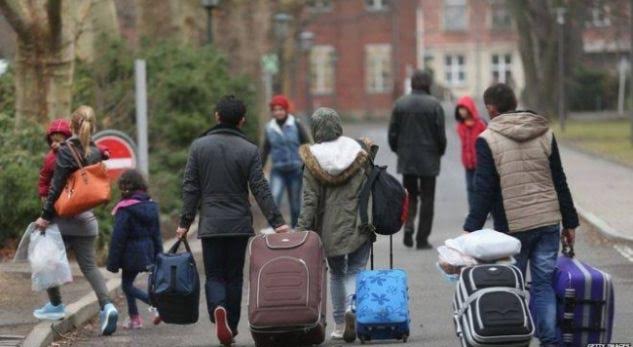 Tirana, 19 February 2016/Independent Balkan News Agency
By Edison Kurani
Albanian parliament voted on Thursday evening a bill for the registration of migrant workers.
The bill proposed by the left wing majority, received half of the votes in parliament, while the opposition was against.
The bill "On the identification and registration of addresses of Albanian nationals who live outside of the territory of the Republic of Albania" aims at creating a full data base about Albanians living outside of Albania and their assets.
References have been made in the media according to which, the main scope of the registration is that Albanians who have bought homes out of their country or have different businesses, to be taxed by the Albanian state too. These suspicions are reinforced by the fact that according to this law, if within 90 days, migrant workers do not declare their assets outside of Albania, then the services that they receive by the Albanian state will be suspended and these services include their issuance with birth certificates, identity cards and international passports.
However, the government sees the new law as a way of integrating migrant workers. Minister of Interior, Saimir Tahiri says that the law on the registration of migrant workers is a crucial step which gives way to emigrants' right of vote.
Tahiri says that the law offers very good services for Albanians who live abroad. "Today, on paper, there are around 4,4 million Albanian nationals and a significant part lives outside of Albania. We don't know where they have built their future. Today we have around 4,4 million Albanian citizens, 740 thousand buildings and we don't know who lives where, let alone outside of Albania", Tahiri said.
The minister of Interior says that it is unforgivable that the state doesn't possess such information.
But the MP of the Unity for Human Rights Party, Vangjel Dule has a different opinion from minister Tahiri. According to the chairman of this party, the law must be reviewed and then brought to parliament again, as "in this form, this bill does more harm than good". Dule requests for the bill to be brought to Parliament in the framework of the electoral reform.
"We must guarantee them the right of vote and based on this right, we must start a systematic registration", Dule suggests.
According to him, emigrants are intentionally being deprived of the right to vote. But, Dule's accusation is not backed by the minister of Interior. Saimir Tahiri says that "this law doesn't aim at depriving emigrants of their right to vote, but it guarantees the most fundamental step for emigrants to vote one day".
Tahiri also launches strong accusations against Dule in Parliament: "Here there are Greek citizens registered in Greece, who vote in Albania and who exert political activity in Albania and who are paid from Greece and you, Mr. Dule, are a product of this. This law doesn't affect the right of vote of emigrants, but this is a foundation stone for their vote".
But this law can produce a political crisis, as the opposition contested it by considering it to be in conflict with other laws that regulate electoral processes.
Democrat MP, Oerd Bylykbashi suggests that the law for the registration of emigrants must become part of the discussions for the electoral reform. According to him, this law denies Albanians who live abroad the right of vote.
Among members of parliament, there is also an emigrant who has lived his live between Albania and Italy. Eduard Ndocaj, left wing majority MP, says that emigrants have been betrayed.
"Emigrants are Albanian citizens who are already registered and they do not need another register. We are Albanians, not emigrants. You treat us like emigrants. It has been 25 years that we demand to vote where we live. Where should we register? I am registered in Albania and so are our children", Ndocaj says.
Ndocaj recalls the promise that was made by PM Edi Rama according to which emigrants would vote for the local government elections.
Even for the democrat MP, Flamur Noka, the law on the registration of emigrants is against the electoral code.
"To draft such law today is a disgrace. It is completely against the Electoral Code, which clearly states that if a citizen no longer has a current address in Albania, he automatically loses his right of vote. In this case, a question is raised: If the code says so, then how can we proceed differently?"
Former Interior minister, Noka, suggests that before carrying out the registration of emigrants, the state must first address the right of vote for Albanians who live in Albania and then "undertake legal steps for all Albanian citizens who do not live in Albania".
Socialist MP, Ben Blushi also criticizes the work of the government and says that it has failed in improving the lives of Albanians. According to him, good governance would encourage emigrants to invest in the country and prevent other Albanians from leaving it. "Emigrants have strengthened our economy and this is not all. They have given hope to this country. But why do Albanians leave the country? What are they missing? What they miss is the hope for better and fairer governance. There's less work, les incomes and more poverty", Blushi says.
Former minister of Local Government suggests that the government must guarantee emigrants the right of vote and "establish better relations between Albania and the Diaspora, as the only chance to change Albania, to make it greater and fairer than it is". /ibna/