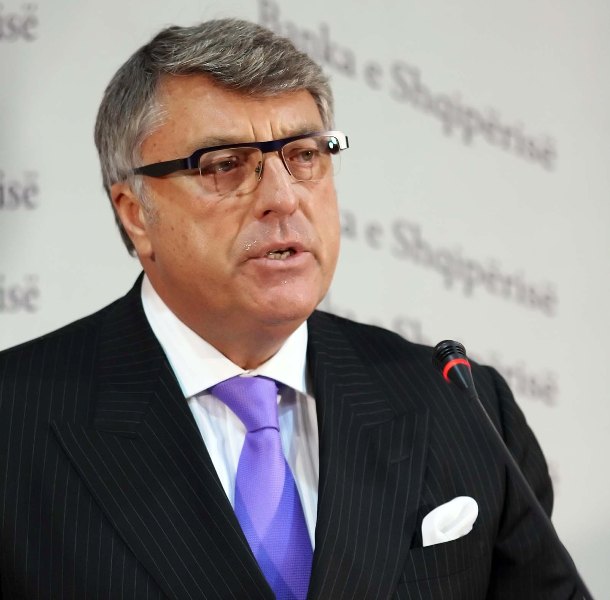 IBNA Analysis/Governor of the Bank of Albania, Ardian Fullani analyzes economic developments in the country. After the Oversight Committee of the Bank of Albania decided to reduce base interest rate to a historical low of 2.75%, Mr. Fullani says that this monetary policy will help in offering the necessary conditions to meet the inflation objective. He explains why the Albanian economy is expected to operate below its potential in the upcoming period
Tirana, February 27, 2014/Independent Balkan News Agency
By Ardian Fullani
Governor of the Central Bank of Albania
Macroeconomic developments in 2013 were characterized by a weak economic growth and by a falling inflationist pressure. Bank of Albania expects a gradual improvement of economic activity during 2014, but the Albanian economy will continue to operate below potential and inflation is expected to be low even this year. The increase of excises in particular seems to have a lower impact than projected on inflation for 2014. Under these circumstances, facilitation of monetary supply is expected to offer the necessary stimulus to restore inflation objective within a medium term period.
Annual inflation was 1.7% in the month of January, marking a slight fall compared to the previous month. This fall came as a result of the drop of inflation for unprocessed food, as a result of lower prices in partner countries and increase of domestic agricultural production. Increase of excises for special categories of products had an extra impact of 0.5% on total inflation, but this factor was entirely compensated by the fall of inflation in food products. The consumption basket prices didn't change much from previous months.
The general economic and financial environment has conveyed low inflationist pressures in the past 2 years. Low private demand continues to dictate the cyclic weakness of the economy, being accompanied by a low growth of employment and production costs and by putting pressure on profit margins. This chain of factors is further reflected on low pressure for the increase of final prices for consumption goods produced in the country and is also reflected in the low values of inflation. Along with this, low inflation on a global level and stability of exchange rates have been reflected on low imported inflation. This picture is also expected to be present in the next quarter.
Albanian economy reflected clear signs of slowdown in 2013. Economic growth this year was backed by foreign demand and fiscal stimulus, while consumption and private investments have contracted. New data from the developments in the real sector in the fourth quarter do not change our evaluation for a weak aggregate demand and an economic growth below potential.
Low business and consumer faith, the apathy of the labor market and stringent lending criteria continue to weaken private demand.
Disposable incomes are estimated to have seen a growth and consumers appear to have liquidity, but they continue to hesitate in increasing consumption and are inclined toward savings. On the other hand, the lack of final demand and the presence of unexploited capacities stop private investments.
Latest data of foreign trade indicate an annual growth by 13.5% of trade deficit in the month of December.
Exports continue to follow a growing trend, but the 2 figure growth of import led to a growth in trade deficit during this period. The growth of imports is estimated to have occurred as a result of a 1 month withdrawal of importing activities, in anticipation of the entry in force of the new tax package in January 2014. Imports saw a growth of 15.8%, while exports saw a growth of 19.5%.
The fiscal policy has offered a facilitating contribution of 1.3% economic growth during 2013. The fiscal stimulus has been reflected in the increase of expenses and the fall of fiscal incomes. Thus, budget expenses saw an annual growth of 4.7%, while fiscal incomes fell by 0.5% in 2013. Nevertheless, budget deficit was lower than projected, accounting for 4.8% of GDP as opposed to a projected 6.2%. For the upcoming year, fiscal policy is expected to be more cautious and this will be reflected on a lower budget deficit and a lower fiscal stimulus. The payment of arrears is also expected to improve the financial situation of the private sector and offer better conditions to revive its demand.
Bank of Albania has demanded and has backed measures for the preservation of public debt. In spite of the short term costs, the preservation of public debt in controlled and affordable levels has an impact in lowering insecurities, in increasing opportunities for private sector and the growth of flexibility of public finances. In a longer term aspect, we believe that it's necessary to adopt an efficient and transparent fiscal rule.
In response to the facilitating monetary policies and the quiet situation in terms of liquidities, financial markets have seen a quiet activity and they've had a slight tendency to reduce interest rates. Cross banking market has been characterized by the increase of volume and lower interest rates. Lending activity remains low, reflecting the low demand of economic agents for funding and conservative policies of lending applied by banks. Reduction in lending costs in the fourth quarter has not yet been accompanied by an increase of demand for loans.
Forecasts for the upcoming year
The basic projections for economic developments in the future indicate a gradual recovery during 2014. Along with the positive foreign demand, the upcoming year is expected to see an improvement in the demand of private sector. The payment of arrears for the private sector is expected to improve liquidity in this sector and improve the financial situation of the banking sector.
Also, the accumulation of financial savings and facilitating stimulus of monetary policy is expected to be materialized in a better performance for consumption and private expenses in the future. In spite of the improvement, the Albanian economy is expected to operate below its potential even in the upcoming period. Economic growth below potential and low inflationist pressures coming from the foreign sector, are expected to be reflected in lower inflation levels. /ibna/