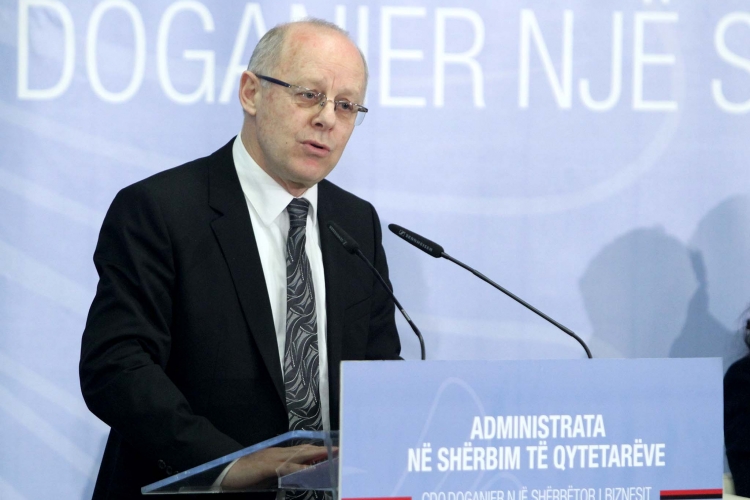 IBNA Special Report/Even this year, the Albanian government will continue to increase public debt, but it says that starting from 2015, there will be a decrease of this debt. This year, public debt is expected to account for 72.1% of GDP (Gross Domestic Product), the highest level of the recent years
By Edison Kurani
Figures for the next three years
Albanian government has approved the Macroeconomic and Fiscal Framework for 2015-2017. Based on this strategy, in 2015, debt will decrease by 0.4% or to a level of 71.7 as opposed to 72.1% forecast for this year.
In 2016, public debt is expected to fall to 69.2% or 2.5% lower than 2015.
In 2017, the government says that it will decrease public debt to 65.6%.
What is expected from the debt decrease
Experts in the Ministry of Finance say that the decrease of public debt will bring a fall in budget deficit. In 2014, this deficit is expected to be -6.5% of GDP.
For 2015, deficit is expected to be -4.8%, in 2016 it's expected to be -3.4% and in 2017 it's expected to be -1.3% of GDP.
One billion Euros worth of debt from IMF and World Bank
In mid December, the government negotiated with international financial institutions in order to secure loans. "In the meetings with IMF, we saw that we had good chances of striking a deal. This would give way to low interest loans from international financial institutions, in order to inject the necessary liquidity to help economic growth without risking macro-economic equilibrium", says minister Cani (photo).
In this framework, a month ago, the government struck a deal with the International Momentary Fund and World Bank to borrow 1 billion Euros. This amount will be allocated over three years, where 300 million Euros will be borrowed in 2014.
Debt and its ceiling
During the 8 years of right wing government, former prime minister Berisha tried not to exceed a 60% level for public debt. During the right wing government, Socialist Party of the current prime minister, Edi Rama, had strongly criticized Berisha of significantly increasing public debt and as a result, causing the impoverishment of Albanians.
In the past few days, the head of the High State Audit, Bujar Leskaj demanded to the government to reinstate the mandatory public debt ceiling.
One of the first steps taken from the left wing government a few months after taking office was to increase public debt which for this year is expected to be 72.1%. The government says that it's obliged to increase the debt due to the serious financial situation existing when it came in power.
Ministry of Finance says that the increase of public debt in 2013 and 2014 includes the payment of arrears that state institutions owe to private businesses for different services benefited without making a payment on time.
The minister says that the increase of public debt will bring a positive reflection in the economy of the country and a chain effect, which enables economic growth in a medium term period.
Cani: We expect a 2% economic growth
Former governor of the Bank of Albania, Shkelqim Cani is currently a Minister of Finance. He says that the Albanian economy has significantly slowed down in the recent years.
According to him, real economic growth in 2013 is predicted to be 1.3%.
He also adds that there will be "a modest improvement to 2% in 2014".
Mr. Cani also explains the reasons for the level of economic growth. "Economic growth in the recent years has mainly been based on foreign demand, but its contribution has been limited as a result of the disadvantageous developments in the Eurozone, especially in Italy and Greece".
Minister of Finance says that aggregate demand remains weak, as a result of the decrease in lending and arrears. He also says that economy is operating under its potential, therefore according to him, there's a growing need to find ways which will help economic growth.
Mr. Cani is aware that "economic growth through the increase of public debt would put the economy in front of an even bigger danger". According to him, "public debt has reached a level which is not only dangerous, but also expensive. High costs of interests-accounting for half of public investments or more-reduce the possibility for other more productive expenses".
Under these circumstances, Mr. Cani says that more efficient ways must be found to help economic growth. According to him, improvement of the business climate consists on an important factor for the growth of investments. Mr. Cani says that the government is committed to take a number of short term and medium term measures in this aspect.
Fiscal policies based on the state of economy
Minister of Finance says that fiscal policies will be applied based on the economic situation.
"Fiscal policies will be managed based on the state of the economy, which means that there will be lighter measures if economic growth is weaker than predicted and vice-versa".
Nevertheless, Mr. Cani says that falling corruption in the tax administration is a factor which will have a big impact on the economy of the country.
"In order to fight corruption in the collection of taxes, tax inspectors will be required to report more often and in more detail to the general directorate of taxation about tax payments in the districts where they operate".
For the first time, a lottery to stimulate tax payment
For the first time ever, a lottery will soon be applied in Albania in order to stimulate payment of taxes by private businesses.
Minister of Finance, Shkelqim Cani talks about the plan that has been drafted. "We have a plan to apply lotteries through sales receipts in order to stimulate the consumer more in order to ask for a receipt when purchasing something".
This is a new experience in the Albanian tax system, but not in the neighboring countries. Skopje's government regularly applies the lottery by encouraging a prompt payment of taxes, although it's one of the countries in the region where payment of taxes is at optimal levels and tax evasion is low.
So far, amnesty and not lottery has existed in Albania as a stimulus. Every now and then, the government has granted an amnesty, felling incapable of collecting overdue taxes by businesses. Nevertheless, not many businesses have accepted amnesty. Some of them claim that the cause relates to the amnesty law which sanctioned that following the amnesty of taxes and fines, businesses in debt should undergo a full declaration of revenues and their workers in the future.
The majority part of companies in the country, excluding several corporations, operate through two financial statements, where one of them is sent to state authorities. Not all workers are declared and the payment declared for them is lower than what they actually receive. This way, several businesses pay less taxes and other financial obligations for their employees. /ibna/