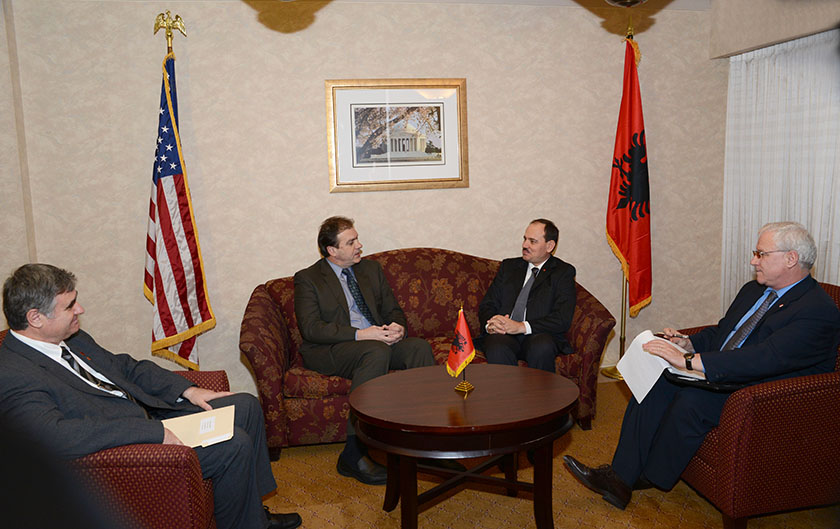 Tirana, February 4, 2014/Balkan Independent News Agency
President of Albania, Bujar Nishani is holding a visit in the United States of America which will last several days. Mr. Nishani had a meeting with the Executive Director of the National Albanian-American Committee, Avni Mustafa.
At the focus of the meeting (photo), were issues that concern the most the Albanians of Albania and Kosovo, European integration.
Therefore, Mr. Nishani said that it's very important for the Diaspora to be united in the efforts for the integration of Albanians.
"I'd like to praise the work done by the National Albanian-American Committee about the Albanian cause. Diaspora must be united around national interests in order for the process of integration of Albania, Kosovo and the change of the image of Albanians in the world to take place", said Mr. Nishani.
The president also underlined that the relations between Albania and USA are very important and strategic, adding that in this context, the role and activity of National Albanian-American Committee is crucial in these relations.
On his part, Mr. Mustafa assured that the Committee will continue to be committed in its work in order to support the issues and interests of Albanians in the region.
Mr. Mustafa demanded from authorities in Tirana and Pristina to play a greater role in lobbying in the US.
"Albania and Kosovo must pay more attention to their diplomatic centers in Washington D.C and organizations that work in order to lobby at the Congress and American Administration, in order to support Albanians and democratic developments in Western Balkan", said Mr. Mustafa.
There's a big Albanian community in the USA. A considerable part of this community has been well integrated and has an impact in the American public life. Thousands of Albanians emigrated to the US at the beggining of '90s. Today, many of them are business owners and some of them have also entered politics, culture and cinema. /ibna/