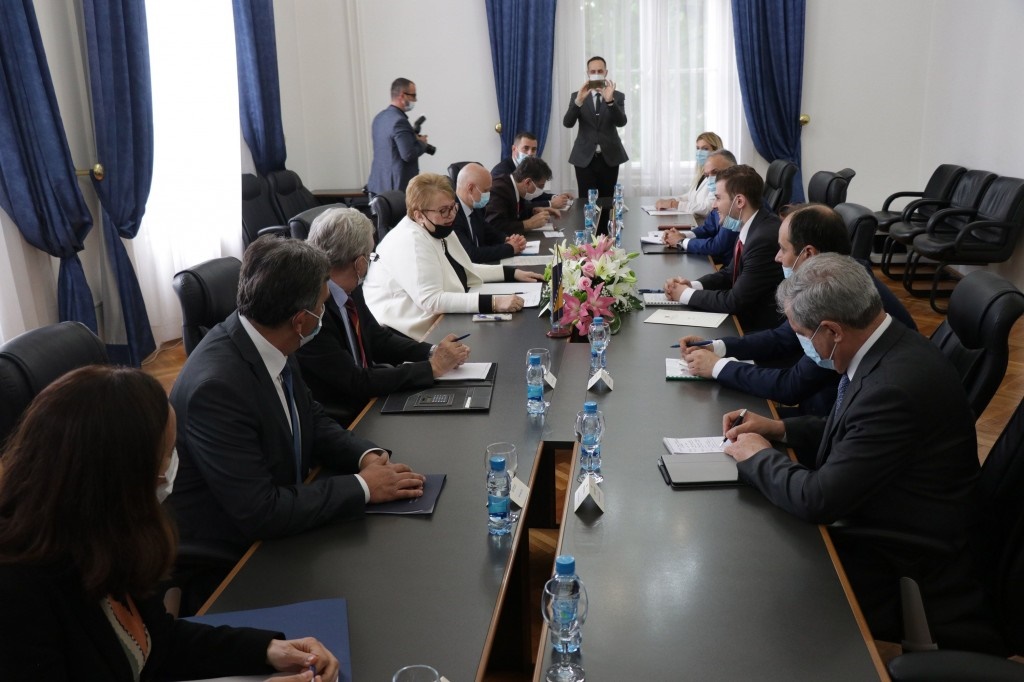 Acting Minister for Europe and deputy Foreign Affairs of the Republic of Albania, Gent Cakaj, during his official visit to Bosnia and Herzegovina, met today in Sarajevo with the Deputy Chairman of the Council of Ministers of Bosnia and Herzegovina and the Minister of Foreign Affairs of BiH, Bisera Turković.
After the meeting, Cakaj emphasized Albania's commitment to expanding cooperation and deepening friendly ties with Bosnia and Herzegovina, to strengthening legal security and removing obstacles to free trade and movement in the region, with a view to strengthening economic relations, such as tourism and trade, as well as for the desired common prosperity towards European membership.
On the current coronavirus pandemic, he points out that Albania initially acted primarily to slow it down, and in the current phase of normalization of life, issues of further economic development and improvement of external relations were raised.
In the context of the relations between Albania and Bosnia and Herzegovina, Cakaj stated that a common message should be sent "that we are united and that the projects started earlier are being realized".
He also stressed Albania's support for the intentions expressed in the Berlin Process, adding that his country's chairmanship of the OSCE would not only mean its concern for its own interests, but also the interests of friends, emphasizing that the two countries, represented by him and Minister Turković, already have deep friendly ties.
On the issue of Kosovo the Albanian diplomat said that his country expects support for its position, as well as that problem solution must not only have a political and security dimension, but also a moral one.
Cakaj expects that Minister Turković, whose visit is expected by official Tirana, will have the opportunity to learn about Albanian experiences and action on the European path.
He thanked Bosnia and Herzegovina for its solidarity and assistance to Albania after the devastating earthquake, for its support for membership in the Security Council and international associations, and for joint efforts to fight the pandemic.
Albania is at the disposal of Bosnia and Herzegovina in everything it can do in a joint effort for a better future, concluded the Acting Minister of Europe for Europe and Foreign Affairs.
The Minister of Foreign Affairs of Bosnia and Herzegovina expressed satisfaction with the official visit of the Albanian counterpart, especially since the conditions for diplomatic activities are aggravated by the coronavirus pandemic.
According to her, there are no open issues between the two countries because they are resolved in friendly meetings, formal and informal.
At the meeting with the Albanian Minister, she stated, among other things, they discussed the Albanian chairmanship of the OSCE and the upcoming summit, regional cooperation, emphasizing the very successful contacts within the Berlin Process./ibna