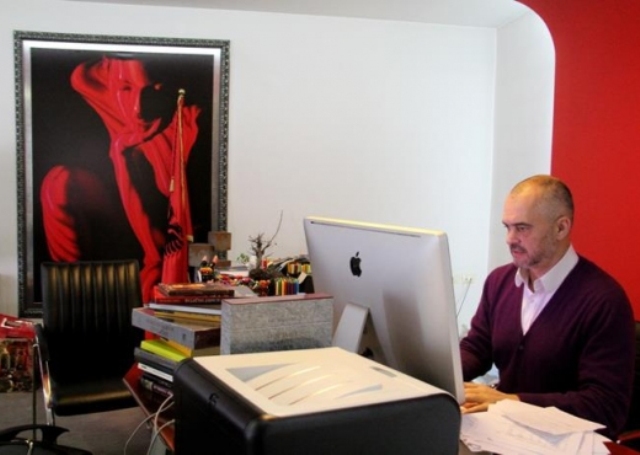 Tirana, 24 August 2015/Independent Balkan News Agency
By Edison Kurani
The holidays which lasted nearly a month came to an end and the head of the Albanian governnent has come back at the focus of the media and communication with the public.
For several hours today, PM Edi Rama communicated with citizens on Twitter and Facebook.
At the focus of the virtual dialogue was the topic of asylum seekers. Why are so many Albanian citizens leaving to Germany?  Rama was brief in his answer to this question by offering another thesis. Rama claimed that "the majority of Albanians who leave to Germany are Albanians who mainly leave Greece".
However, Rama admitted that there are also Albanians who leave the country and that they do not only consist on Albanians who have moved to Greece years ago.
On the other hand, according to Rama, "there are plenty of migrants who have returned to Albania and are working now".
In this live conversation, Mr. Rama also focused on several domains of politics, economy and social affairs.
Commenting on foreign policy, Rama said that "foreign policy is going through its best days at the service of the dignity of the country which is no longer betrayed from its government". It seems that Rama referred to the abrogation of the maritime pact with Greece, as when he was in opposition, he had accused Berisha's government of national treason.
The head of the Albanian government was very critical about Athens' official position regarding Albanian internal affairs. Rama referred to the reactions of the Greek Foreign Ministry on the intervention relating to an Orthodox church in Dhermi, where Albanian Orthodox authorities accused the government of destroying an important church.
"They did it more often in the past and they do it less often now. A little bit more time seems to be required in order for them to realize that Albania no longer accepts tutelage", Mr. Rama said. Commenting on the church of Dhermi, Rama tried to give this debate a lesser value: "Church of Dhermi? It's really grotesque and sad to call some ruins which resemble a garage, a church and they are revolted about the fact that we're bringing back our national heritage".
As far as the voting of emigrants is concerned, Rama said that "we will do everything to make this a reality in the 2017 elections". In fact, this is an electoral promise of the SP and SMI". Rama said that this pledge is now considered as "a national obligation".
As far as economic arguments are concerned, answering the question in relation to the operation against informality which is expected to start in September, Rama said that this will be done to protect consumers. "This is an extraordinary battle in order to protect consumers and honest businesses that pay taxes", Rama said.
As far as the price of fuel is concerned, Rama underlined that "fuel in Albania costs as much as everywhere else, but here it also includes road tax".
In relation to agriculture, the prime minister said that "agriculture has seen an important turn. This year there will be a support package for agriculture, a package never seen before".
The prime minister also underlined that "salaries will increase once informality goes down. Whoever wants a pay rise, he must insist to obtain a receipt even when he buys a coffee. The part that belongs to the citizens from the tax receipt, will be converted into pay rises, tax cuts and investments in the community".
Rama said that "prices in Albania haven't seen any extraordinary rise and inflation is minimal, while consumption has seen a significant growth".
As far as the energy system is concerned, Rama said that "the plan of the modernization of the system of invoices progresses based on a concrete program. We have entered a new phase. Investments which have been missing for decades and a drastic improvement of customer service after we avoided bankruptcy".
The prime minister underlined that "the phenomenon of contraband in customs has significantly gone down" adding that "a fight is taking place on a daily basis".
Rama also talked about different social problems.
As far as the bill on higher education is concerned, the PM replied that the novelty of this bill relates to the fact that students in need will be funded by the state.
The prime minister added that there will be an ongoing battle to formalize workers who work in black. "We will continue in the same way that we've started. We have taken out of the slavery of black work tens of thousands of people who are insured today".
As far as the state of hospitals is concerned, Rama answered that "improvements in hospitals are evident, in order to have the hospitals that we want, there's still much work to be done, and more money and time is needed".
In relation to the process of legalization, Rama said that, "we have done more legalization than in eight years of the previous government, but we don't have a magic wand to do everything at once".
Speaking on the reform in the justice system, Rama said that "it will fully address all those questions that time has raised over the 'cadaver' of justice". "We will attack corruption in the justice system in a way which is not imagined by anyone inside or outside of the system", Rama said.
As far as the reconstruction of the water supply system is concerned, Rama said that "a water supply system during 20 years, cannot be entirely built in less than two years. More money and time is needed!".
Speaking about corruption, Rama said that "it has significantly gone down, but fight against corruption never ends in a country, whatever the level of development of that country is".
As far as employment is concerned, Rama said that "the number of people who have been employed cannot be seen from the balcony or from a bar, but in the state's accounting books where over 100 thousand more people appear to have been employed!"./ibna/