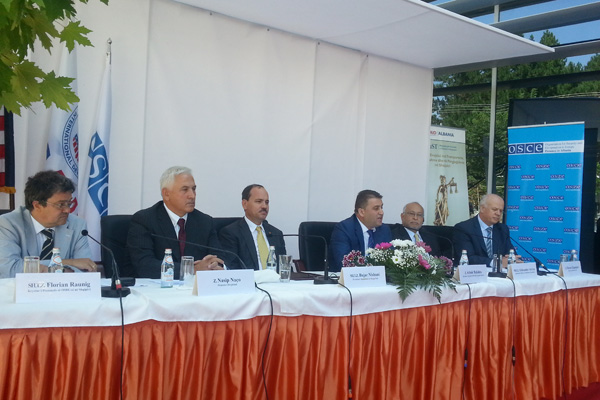 USAID and OSCE support "Justice Without Delays" at Korca District Court. Initiatives like this are instrumental for restoring public confidence in the judiciary and for Albania's development and prosperity.
Tirana, September 10, 2014/Independent Balkan News Agency
Judges in Korça have embraced an OSCE-supported project aimed at reducing unreasonable delays in trials, following the positive results of the project in another court in Albania.
"Lengthy court proceedings are damaging the credibility of justice in Albania. The project we are presenting in Korça today is about ensuring prompt rendition of justice through concrete measures to reduce delays," said the Head of the OSCE Presence, Ambassador Florian Raunig.
The President of the Republic of Albania, Bujar Nishani, the Justice Minister, Nasip Naço, the Chief Justice of the High Court, Xhezair Zaganjori, and the United States Ambassador, Alexander Arvizu, also addressed at the event.
The OSCE Presence in Albania and the USAID's Albanian Justice Sector Strengthening Project (JuST) developed the Justice without delays project after a study conducted by the Presence showed that almost half of the sessions in Albanian courts were non-productive. The project received the strong support of the High Council of Justice and the Ministry of Justice.
In Kruja, where the pilot project was first implemented in February 2014, the judges reduced the average number of hearings in criminal cases from 8.8 to 1.8 through active case management in just three months. Also, the number of cases concluded by the Kruja court during this time was 150 per cent higher than a year ago.
"Albania needs a fundamental reform"
Speaking at today's event, Ambassador Raunig said that the successful implementation of the project depended on the commitment of all those involved. He added that the same co-operation and complete commitment were essential for the justice reform. "Albania needs a fundamental reform of how its justice system works. This reform must include all stakeholders, including the Ministry of Justice, the High Council of Justice and the Assembly, and it must start now," he said.
Ambassador Arvizu also underscored the need for serious justice sector reform: "Albania's justice system desperately needs positive change.  The status quo is unacceptable.  It costs enormously in terms of delayed justice, lack of trust, lost investment opportunities and lost jobs." /ibna/