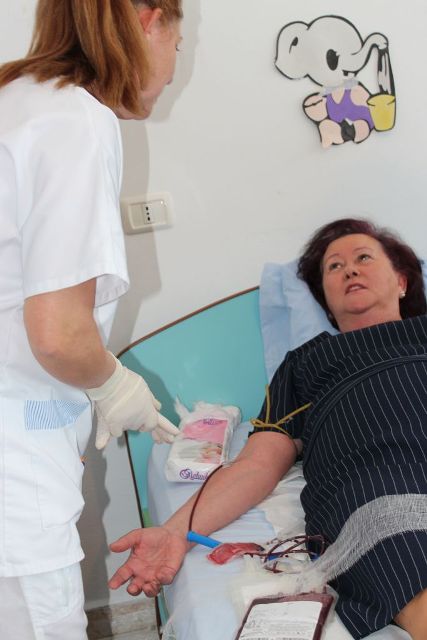 Tirana, May 8, 2013-In the World Day of Thalassemia, the Albanian Children Foundation along with a group of diplomats and personalities from public life in the country have given blood for children with thalassemia in Lushnje.
"Do what you want the others to do, if you needed blood. Blood is vital. Blood is never sufficient. It is demanded at any time for immediate use", was the slogan of this foundation.
This foundation, which constantly helps children suffering from this illness and their families, was today at the Center of the Treatment of Hemoglobinopatia in the town of Lushnje to give blood.
This incentive was joined by a group of women diplomats, part of the Diplomatic Club in Albania, several professional women, renowned personalities from different domains of public life in the country and the first lady of the country, Odeta Nishani.
The president of the Albanian Children Foundation, Dr. Liri Berisha urged healthy individuals to give blood in order to support children with thassalemia and their families and called upon all young people which are planning their families, to undergo the analysis of electrophoresis, with the scope of preventing the birth of children with thassalemia.
"I'd like to urge all those who can offer blood for these persons that suffer from different blood illnesses, especially for those small children with thassalemia, in order to make the life of these families and parents easier. Please think of those children who every three weeks, lose their joy, strength, color and vividness for several milliliters of blood, waiting for a donor, the humanity of which will not allow his life to extinguish", said Berisha.
The representative of the diplomatic club "Welcome to Tirana", Anna Maria Wollfarth sent a message on behalf of all persons and individuals in need of blood.
"People should come here today to give blood. There are many people in need of blood and I believe that their arrival here is the best thing that they can do. Not only because today is the International Day of Thassalemia, but also because we are all in need. There are many Albanians in need of blood, therefore we beg you to come and give blood. It doesn't hurt. It's fantastic. At the end, this T-shirt is also offered", said the foreign diplomat. /ibna/