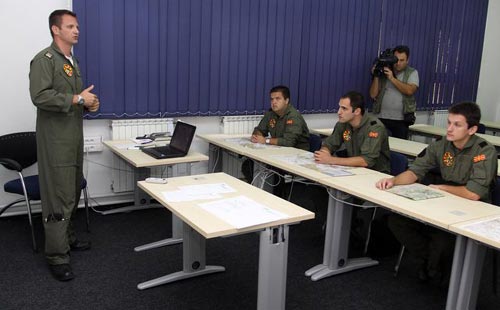 Skopje, April 30, 2013-For the first time, Albanians will be part of the PilotTrainingCenter in FYROM. This center held today the third competition for the admission of new cadets. Present in this ceremony was also the Minister of Defense, Talat Xhaferi.
"Every cycle will have a small number of candidates for training. Candidates must have completed university studies. The basic training will cover helicopters, but also other needs", said minister Xhaferi, adding that the competition will be open for candidates that meet the criteria, but also bearing in mind the ethnic representation.
The training will be monitored by the head of this center, the Israeli pilot, Jaari Shraga. According to him, the training will last 19 months and all candidates will then be issued with the title of under officers and will be guaranteed a place of work. The TrainingCenter works in close partnership with the Israeli specialized company "Elbit" and the Ministry of Defense of FYROM. The TrainingCenter has Zlin 242L airplanes and Bel206B helicopters.