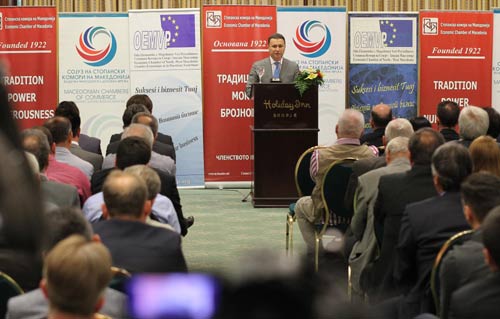 Skopje, September 19, 2013
Yesterday's speech of Prime Minister Nikola Gruevski before businesses and economic chambers of the country has sparked the reaction of several Albanian businesses.
Unofficially there have been complaints about the projects which have been mentioned and priorities of the government in the aspect of economic development and projects that relate to Albanians and their areas in FYROM. But, all the reactions have remained in the form of communications through social networks.
Such reaction has come from the businessman and owner of "Makalb Company", Shefki Aliti.
"Gruevski talked about business in FYROM by stressing projects in eastern FYROM. He didn't mention the projects of western FYROM or Albanian projects, consisting on the construction of several highways", said businessman Shefki Aliti.
Unofficial reactions were also issued by other businesses which demand to OEMVP to be more critical and more open toward demands relating to projects in the Albanian populated areas in FYROM. /ibna/