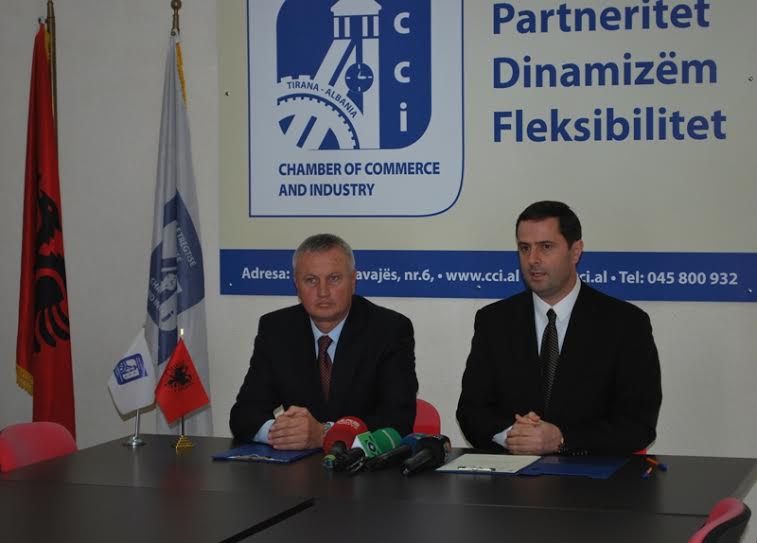 Chamber of Commerce and Industry of Tirana and General Directorate of Accreditation sign a cooperation agreement
Tirana, October 23, 2014/Independent Balkan News Agency
Businesses in Albania often face problems in selecting the certification and the organizations that issue it. In the majority of cases, they do not have information and often fall victims of false accreditations and certifications. The Chamber of Commerce and Industry of Tirana receives many denouncements of such nature.
In an effort to solve this situation, the head of the Chamber of Commerce and Industry of Tirana, Mr. Nikolin Jaku and the General Director of Accreditation, Armond Halebi, signed a cooperation agreement between these two institutions.
Based on this agreement, the General Directorate of Accreditation will support businesses with information on certification, testing, inspection and accreditation and for issues that relate to technical barriers in commerce and the role that accreditation plays in facilitating these barriers.
Mr. Halebi says that to avoid invalid accreditation, General Director of Accreditation will inform and help in selecting the necessary institution.
"For this, businesses will be asked to contact the Chamber of Commerce and General Directorate of Accreditation before they decide to certify their businesses, in order to avoid certification through unaccredited companies, which leads to non recognition of the certificates issued by them", says Mr. Halebi.
On issues that relate to accreditation, the Directorate will also offer training and seminars, in order to inform businesses on the problems that relate to this field.
The head of the Chamber of Commerce of Tirana, Mr. Jaka says that it's important for the Albanian business to be part of the European and global market. He admits that the certification of the Albanian product is very important to be part of this market. General Directorate of Accreditation is the only Albanian national authority that accredits organizations that assess conformity (testing/medical/calibrating laboratories, certifying/inspecting organizations) in the mandatory or voluntary domain.
The activity of accreditation in the Republic of Albania is based on the law in power, on the international standards for the domain of accreditation and other documents issued by European and international institutions of accreditation.
General Directorate of Accreditation is responsible for advising the state administration, business and every stakeholder on any issue that relates to accreditation and the assessment of technical competencies, for the procedures relating to the assessment of compliance with standards and technical rules and will cooperate with every institution interested on issues of accreditation. /ibna/