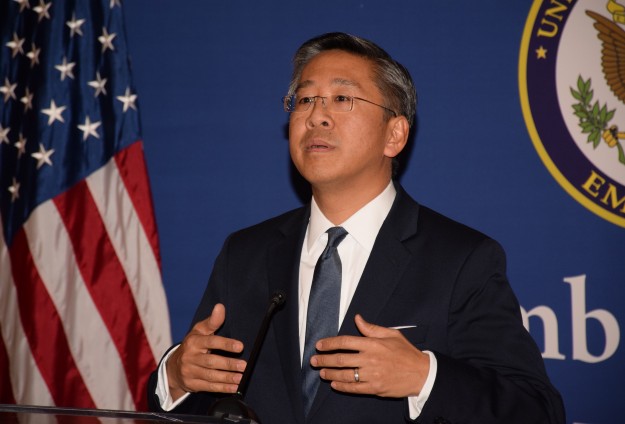 Tirana, 13 November 2015/Independent Balkan News Agency
United States of America are convinced that no Albanian citizen believes that the justice system in the country is independent.
This was declared today by the US ambassador to Tirana, Donald Lu. Lu expressed the support of the United States for the constitutional changes proposed by the panel of experts.
According to Mr. Lu, this is the first time that a concrete reform takes place to remove corrupt judges and prosecutors.
"I assure you that the US backs the current proposals for the constitutional changes. We have participated in the drafting and discussions between experts for each of these changes. This is a fundamental reform, which for the first time will see concrete steps on removing corrupt judges and prosecutors from the judiciary system", Mr. Lu said.
The ambassador invited the sides to put an end to political attacks and stop using a language of conflicts, in order to take this reform forward.
"Political parties must be committed to put an end to political attacks. I encourage the sides to heed to the discussions and advices given for this reform", Lu added.
In terms of the question if the reform threatens the independence of the justice system, Lu gave a direct answer.
"No Albanian believes that the judiciary system is independent today. It's not independent from bribery and phone calls, where people with power call judiciary officials. It's not independent from the pressure of organized crime. This reform will offer a true opportunity to make the justice system independent for the first time", Donald Lu concluded. /ibna/