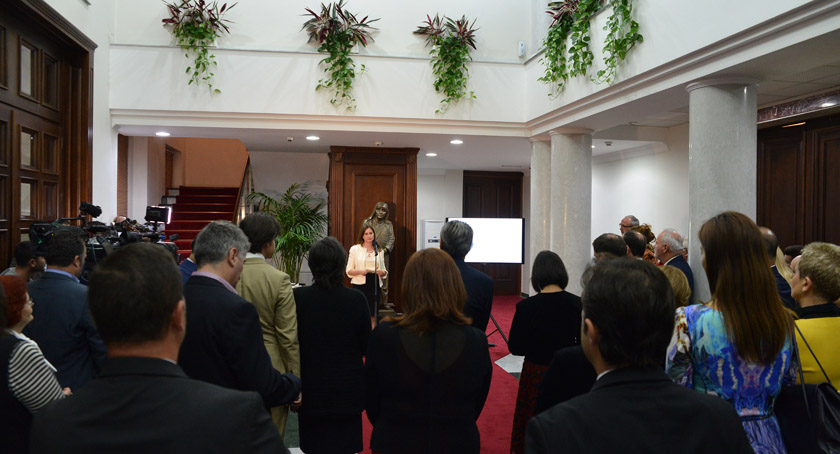 Tirana, November 14, 2014/Independent Balkan News Agency
Albanian authorities praise the figure of the notable British anthropologist, Mary Edith Durham. On the 70th anniversary of her death, the Albanian presidency has commemorated, through a special cultural activity, the traveler, artist, writer and notable English anthropologist, also known as the "Mountain Queen". This activity was held under the auspices of the president of the Republic, Bujar Nishani and First Lady, Odeta Nishani at the Presidency.
First Lady, Odeta Nishani talks about the woman that she considers as an "extraordinary Englishwoman": "At the start of the last century, when Albania was as unrecognized as it seemed that time had stopped someone came to Albania, who was not a military person, explorer, a researcher and it was not even a man, but a woman. This woman was the extraordinary English woman, Edith Durham. She loved Albania and Albanians immensely".
Nishani outlined the fact that Mrs. Durham visited all the regions of Albania. "Edith Durham didn't travel in Albania and Kosovo by car, train or bus, but on foot, with a great joy and without ever getting tired or complaining. This is the reason why her books are still read today and will always be read. It would be hard to even find an Albanian who has loved Albania as much as the Queen of Highlanders, Edith Durham".
The First Lady expresses her conviction that Edith Durham influenced more than any other foreigner for the recognition of the Albanian state and Albania in general.
"We can easily call Edith Durham not only a heroic Englishwoman, but also an undefeatable, who after exploring us and after showing that she loves us so much as to sacrifice herself, left her soul among us", says the First Lady.
The activity was also addressed by the ambassador of the United Kingdom, Nicholas Cannon Obe, anthropologist Perparim Kabo, publisher Elisabeth Gowing. Present in this activity also included representatives of the Diplomatic Corpus, researchers, academics, etc. They followed passages from the memoirs of the journeys of Edith Durham in Albania, read and interpreted by notable Albanian actresses, Rajmond Bulku and Yllka Mujo. /ibna/