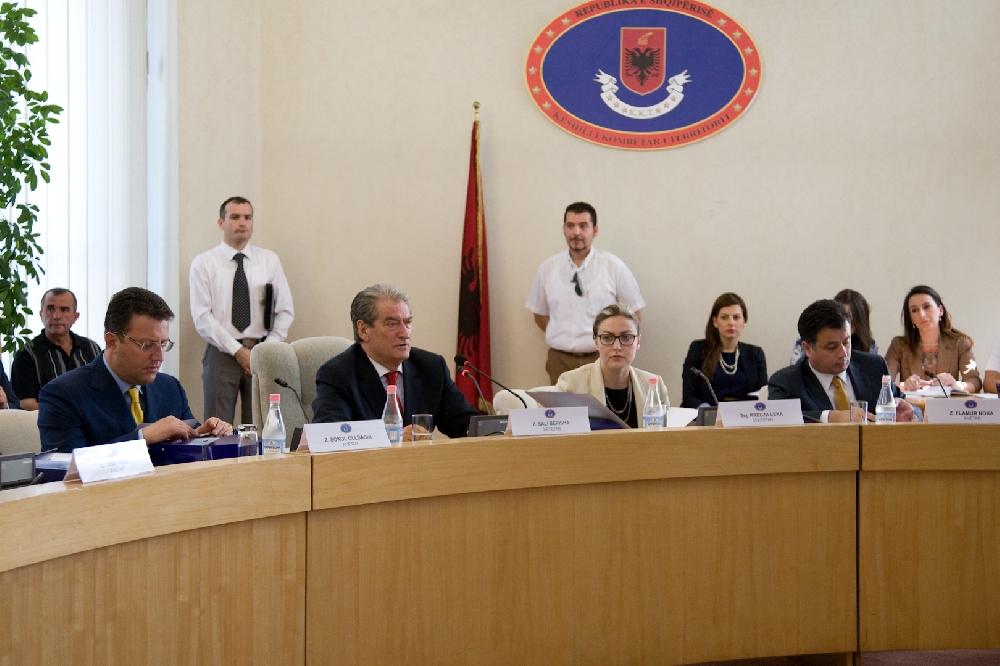 Tirana, July 4, 2013
The meeting of the National Committee of the Territory (photo), which was held on Thursday under the leadership of Prime Minister Sali Berisha, deliberated and approved amongst others the National Sector Plan for Trans Adriatic Pipeline (TAP project).
At the start of the meeting, Prime Minister Berisha said that this plan consists on the final document of Albanian authorities for the consortium that builds this pipeline in the territory of Albania and in its sea territories.
Berisha said that the project is an extraordinarily positive development for Albania and the Albanians. "This project puts Albania in an important position, as this is the greatest project which has ever been implemented in Europe", said Prime Minister Berisha.
Prime Minister Berisha said that "The project resolves once and for all Albania's energy problems, because the source of gas from this pipeline will be able to fully support the industries of the country and also meet household consumers, by offering a cheaper means of energy."
Trans Adriatic Pipeline (TAP) is a regional project of natural gas, which will transport natural gas from the fields of Shah Deniz II in Azerbaijan, passing through Greece, Albania, Adriatic Sea and will reach Southern Italy and then European markets.
TAP will be around 870 km long (roughly: Greece 548 km; Albania 209 km; sea section on the Adriatic sea 105 km; Italy 4 km). The highest point of TAP will be 1800 meters in the mountains of Albania, while its deepest point in the sea section will be 810 meters under sea level. The pipeline has been projected to expand the capacity of transport from 10 to 20 cubic meters of natural gas a year, depending on production.
TAP project is very important for Albania, because it will enable Albania to be connected with the network of natural gas of the so called Southern Gas Corridor, increasing national supply and the overall European supply with gas and by diversifying gas supplies in the region. TAP project is the first project which will enable the passage of transit natural gas through the Albanian territory and will enable Albanian market to be supplied with natural gas. TAP project will be one of the biggest direct foreign investments in Albania and as such, it will generate considerable profits and perspectives for the Albanian industry and local communities. /ibna/