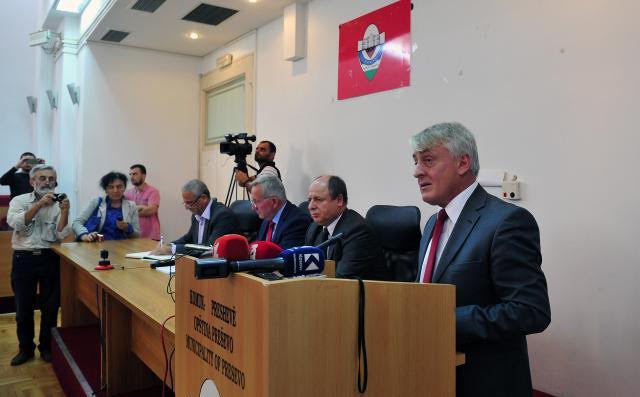 Pristina, 14 September 2015/Independent Balkan News Agency
By Elton Tota
Councilors of Bujanoc and Presevo have approved the proposal for the creation of the Association of Albanian Communes (AKSH) in the Presevo Valley.
The third article of this decision states that AKSH will have the same legal powers as the Association of Serb Communes in Kosovo, based on the principle of reciprocity.
Mayor of Presevo, Ragmi Mustafa, said that "Albanians in the Presevo Valley know how to gather and take such decisions, because we face discrimination on a daily basis".
"If standards apply for Serbs of Kosovo, why shouldn't they apply for the Albanians of the Valley", Mustafa added.
But, the association in question has not been welcomed by the European Union and Belgrade. The largest opposition party in Kosovo, Self Determination, has also been against it.
Several leaders of this Association refer to the principles of reciprocity, while the European Union mentions the fact that the Association of Serb Communes is a result of special talks taken place in the framework of the talks between Belgrade and Pristina.
"When it comes to Albanian minority in Serbia, Serbia has pledged to apply a policy toward national minorities, in compliance with the Frame Convention of the Council of Europe for National Protection and European Charter for Regional Languages. The level of autonomy of local governments within a country is a sovereign decision of an EU candidate country", said the European Union spokeswoman, Maja Kocijancic.
State leaders in Serbia have also reacted against the creation of the Association of Albanian Communes.
Serbia's PM, Aleksandar Vucic considered this as an irresponsible and unacceptable political decision.
"Serbia knows how to prevent it with wisdom. Should there be a need to show strength, don't worry, because it will show it", Vucic said.
Meanwhile, the head of the Kosovo Office at the Serb Government, Marko Djuric said that Albanians need work and a safe future and not conflicts.
"They must act as a bridge between the Serb and Albanian people and not an instrument of manipulation by irresponsible politicians", Djuric said.
Self Determination said that Albanians in Presevo, Medvegj and Bujanoc are ethnics which continue to be oppressed, discriminated and exploited.
But, according to Self Determination,  they must not act like Belgrade does and they must not limit themselves only to reactions against it.
"Serb Association in Kosovo was not demanded by the Serbs of Kosovo, but Belgrade, which wants more territory in Kosovo and not more rights for the Serbs in Kosovo. Therefore, Albanian politicians in the Presevo Valley must contest Vucic's and Mustafa's association in Kosovo and not legitimize it through this request", Self Determination says.
A reaction against the association has also been issued by Riza Halimi, the only Albanian MP in the Serb Parliament.
He said that all of this has been done to veer off attention from the numerous problems in Presevo, Bujanoc and Medvegj. /ibna/