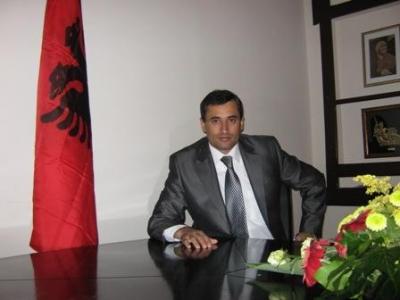 Skopje, November 13, 2013
Albanian ambassador to Skopje, Arben Çejku has held on Wednesday farewell meetings with the heads of Albanian political parties. He met with the head of BDI, Ali Ahmeti and chairman of PDSH, Menduh Thaci.
"The main objective in this visit of farewell is to offer the message that in spite of program differences and political war, there must be unity for the sake of the interests of Albanians in Macedonia, for the integration and development of the country for a bilateral regional cooperation", declared ambassador Çejku. He underlined the need of the unity of Albanian political spectrum, which is also the objective of Albanian prime minister, Edi Rama.
The two leaders of Albanian parties have thanked ambassador Çejku for the cooperation offered so far.
"Ambassador Çejku has offered an extraordinary contribution in commemorating many important events for Albanians, bringing the two countries closer in order to create a more optimal climate for cooperation in all domains", declared the head of BDI, Ali Ahmeti.
Thaci too has expressed his gratitude for the cooperation with ambassador Çejku.
"I assured the ambassador that I have never thought that the ambassador has had any negative intentions toward PDSH in FYROM. I have always welcomed his incentives and I assured him that we will continue to be friends and that we will continue to cooperate in spite of our positions", declared the head of PDSH.
Arben Çejku has served as ambassador of Albania to FYROM since 2005. He came in this position to replace the late Albanian ambassador, Vladimir Prela. The Albanian Foreign Ministry is yet to announce the name of the next ambassador to FYROM. /ibna/