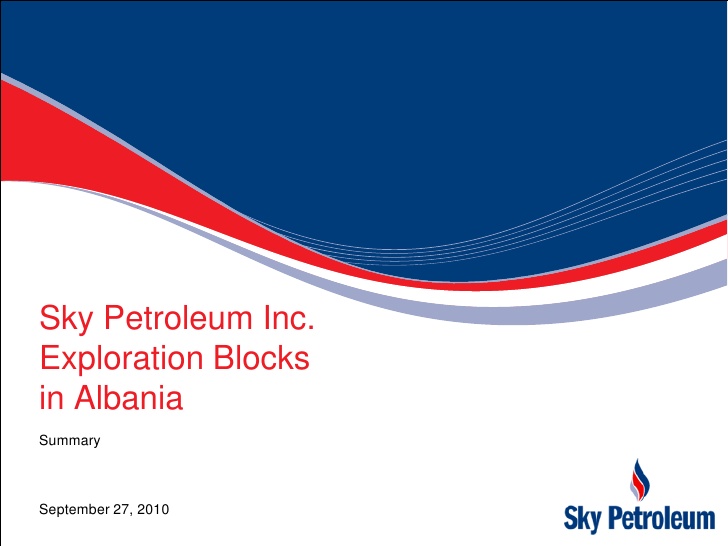 Tirana, May 10, 2013
Court of Arbitration has rejected all claims of Sky Petroleum Inc. and ordered this company to pay to the Republic of Albania 383 thousand Euros in expenses.
This dispute was caused after a unilateral settling of the contract by the National Authority of Natural Resources (NANR).
Parties had signed an Agreement for the Division of Production on Exploration, Development and Production of Fuels in Albania in Blocks 4, 5 and Dumre ("The Contract") dating June 24, 2010, ratified by the Council of Ministers on November 24, 2010.
On July 22, 2011, NANR decided to settle the Agreement on the pretext that the other party had not met all contractual obligations and that it had not signed and submitted a valid Bank Warranty within 90 days from the Starting Date.
Disagreeing with the settlement of the Agreement, Sky Petroleum filed a complaint to the Court of Arbitration in conformity with article 21 of the Agreement.
At the end of the judicial investigation, the Court of Arbitration ruled that the Republic of Albania had valid grounds to settle the Agreement.
The state of Albania doesn't owe any indemnity to Sky Petroleum. It's also entitled to be refunded for all the expenses of the process, such as lawyers' expenses, experts, etc.
This ruling doesn't affect the destiny of blocks 4, 5 and Dumre, because the Albanian government, being aware that the settlement of the contract was fair, it had given these blocks to Albpetrol sh.a company, under process of privatization.
The government believes that this is an extraordinary success for the Republic of Albania, not only because it's saving the state budget considerable amounts of money, but also because it confirms the honest and non discriminatory treatment offered to foreign investors.
The State Advocacy has represented the state in the majority part of the trial, whereas during the last part of the trial, the Albanian government hired two British lawyers, Cherie BoothQC and Mahnaz Malik.
The State Advocacy said on Friday that it's taking measures for the execution of the ruling and that it's examining the possibility to sue Sky Petroleum for the damage caused as a result of the failure to perform the exploration activity on block 4, 5 and Dumre. /ibna/