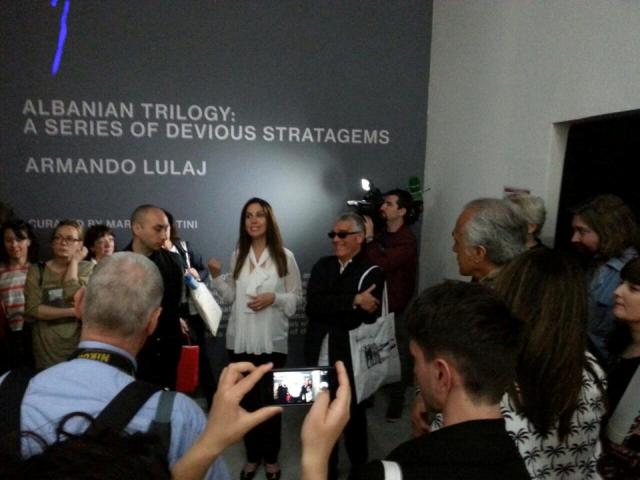 Tirana, 7 May 2015/Independent Balkan News Agency
The Albanian Art Pavilion has opened in Venice, where Albania is represented by curator Marco Scontini and artist Armando Lulaj. Together, they come with "Albanian Triology: A series of Devious Strategems".
The pavilion was opened by the Minister of Culture, Mirela Kumbaro, who said that Albania speaks through "Albanian Trilogy" which comes with political and aesthetic messages, with powerful metaphors and images of a country with great potential.
The ambassadors are the best artists of a country. Fortunately, but not incidentally, Albania has many of them", Kumbaro said.
Curator Marco Scontini says that it's important that for the first time, Albania is presented with a central Pavilion in the Venice Art Biennale, thanks to the great effort of the Ministry of Culture and minister Kumbaro.
President Paolo Baratti commented this incentive like this: "It's an Art Exhibition which brings at the center of attention art and social and political development in the world, seeing how the tensions of the time that we are living are reflected in the sensitivity, creating energy, expressiveness and the spirit of artists".
The pavilion attracted many visitors, among which known collector such as Ene Righi, one of the supporters of this Pavilion, art critics, directors from important museums and galleries, journalists and artists, Albanians and foreigners.
This is the second year that Albania is on the center of the Arsenale in the Biennale.
After Albania's pavilion in the Architecture Exhibition in the 2014 Biennale with Edi Hila and Adrian Paci, curated by Beyond Entropy, Albanian Ministry of Culture has turned quality representation of Albanian art with full merits in the biggest world scene of visual arts, into a decent sustainable system.
For art critics, the international Venice Biennale is the best chance to be recognized, thanks to the bridges of art, culture and contemporary communication.
For Albania, communication with all expressive means, the opening of the borders of the mind and spirit, the expansion of scene beyond the borders of the Republic, the creation of spaces for artistic fulfillment for Albanian artists, is seen as a priority of the cultural politics.
This is also confirmed by minister Kumbaro, when she says that "the investment that we make today in art and culture is the safest investment for the future for the development and civilization of Albania of the next generation". /ibna/