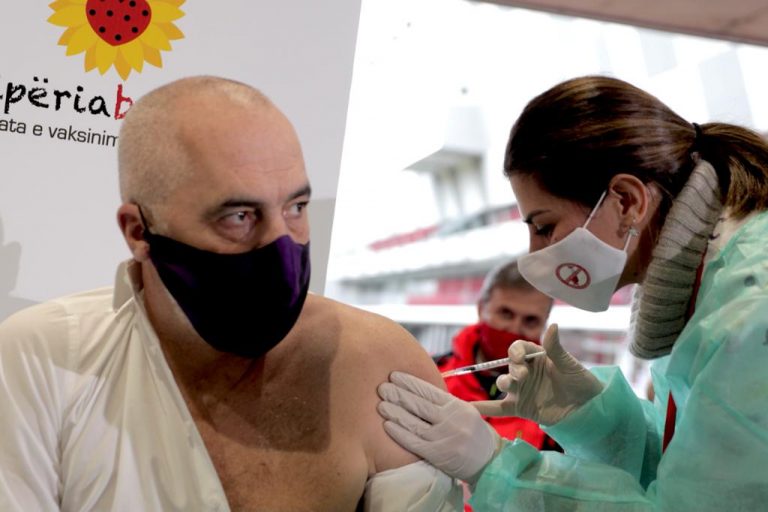 The COVID-19 vaccination process officially began today in Albania, with Prime Minister Edi Rama being one of the first to receive the first dose of the vaccine.
The vaccination process started at the "Air Albania" stadium around 15:00 (local time), with the first vaccinations administered to front-line doctors battling the pandemic, such as Head of the Infectious Diseases Service Dr. Najada Çomo and Pëllumb Pipero and Dr. Tritan Kalo. The Albanian Prime Minister was next in line.
All vaccinated persons were asked a series of personal questions regarding their medical history and recent travel prior to administration of the vaccine. Immediately after the first dose of the vaccine, they had to sit for 10 minutes in the designated areas.
Today, 50 health workers, doctors and nurses at COVID hospitals are scheduled to be vaccinated.
Albania has secured 975 vaccine doses from an EU country which preferred to maintain its anonymity. "It's not Greece," Rama replied when asked about it. In the third week of January, an additional 10,750 vaccines against COVID will be delivered, some of which will be handed over to Kosovo for medical staff at a hospital in Pristina, which is at the forefront of fighting the virus.
Meanwhile, the Albanian Prime Minister also had a message for the Albanian citizens that remained skeptical of the vaccine and the conspiracy theorists: "The vaccine is not mandatory, but it is recommended and must be distanced from the nonsense and poison of conspiratorial sources. The vaccine does not turn the Illyrians into Vikings. The Illyrians remain Illyrians and it is also a fact that no chip enters the body to keep an eye on the latest gossip in the coffee shops."/ibna