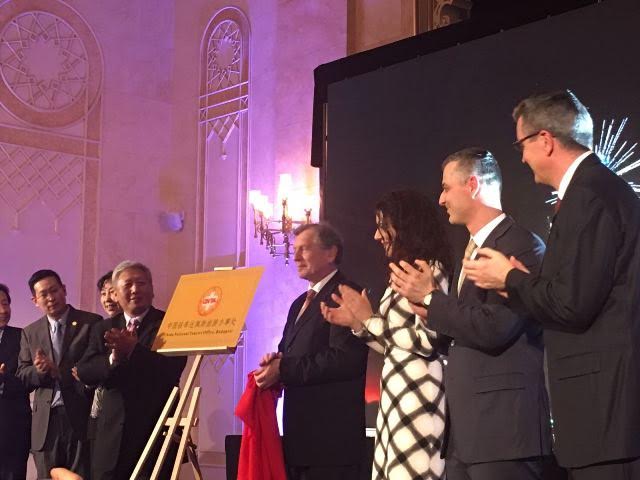 Tirana, 8 March 2016/Independent Balkan News Agency
Albania has been represented for the first time in the recent days in the UTAZAS Hung Expo 2016 fair. The participation in this event has been enabled through the invitation of the main sponsor of this event, China.
The interest of the visitors for Albania has been high, especially as a tourist destination.
During the first three days of this fair, the General Director of AKT (National Agency of Tourism), Ardit Collaku has participated in the activities organized by the Ministry of Tourism of China and the Ministry of Economy and Tourism of Hungary.
Mr. Collaku has participated in the meeting with China's national coordinator to discuss about the progress of tourism, the drafting of a development strategy and the opportunities of cooperation between the two countries.
The participation in the "China Information Day" conference, which discussed on outbound tourism of this country of Central and Eastern Europe, which saw a significant growth from 2013 until 2015, was very important.
The head of AKT also participated in the ceremony of the opening of the "China National Tourist Office" in Budapest, as the official representative of Albania in this event.
This Office will act as a reference point for tourist cooperation between China and the 16 countries of Eastern and Central Europe, where Albania is part of.
Experts say that this fair acted as a meeting point between the National Agency of Tourism and counterpart Agencies of 16 countries of Central and Eastern Europe.
According to official statistics, during 2015, the total number of Chinese tourists who visited Central and Eastern Europe was 300 thousand as opposed to 150 thousand in 2013, thus bringing 195 billion USD worth of revenues as opposed to 69 billion in 2013.
For 2016, incomes from Chinese tourists in Eastern and Central European countries are predicted to be around 220 billion USD.
Chinese tourists are a category of tourists who spend at the moment that they are convinced about what they are offered and that they will achieve their expectations.
The most visited countries from this category of tourists are Bosnia and Herzegovina, Croatia, FYROM, Romania, Serbia, Slovakia, Hungary, Czech Republic, Poland, Slovenia, Estonia, Lithuania and Latvia. /ibna/