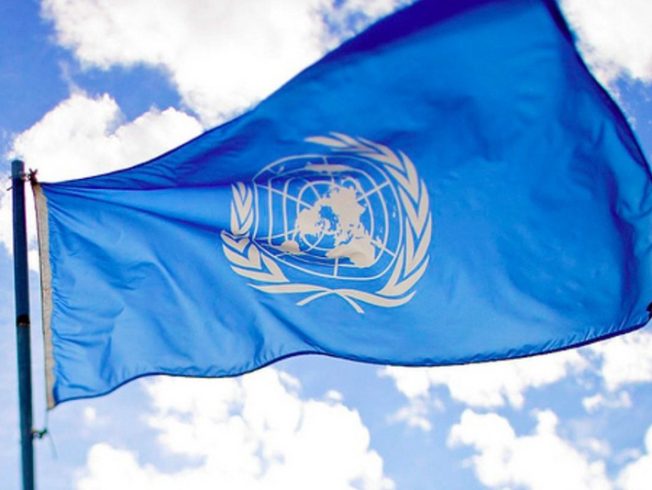 Deputy Prime Minister Arben Ahmetaj and UN Resident Coordinator Fiona McCluney sign the 2022-2026 Sustainable Development Cooperation Framework as the UN marks its 76th anniversary.
The Government of the Republic of Albania and the United Nations Team in Albania announced this Monday, the renewal of their commitment to a joint work program for the next five years, while the Deputy Prime Minister Arben Ahmetaj and the Permanent Coordinator of United Nations Fiona McCluney signed the Sustainable Development Cooperation Framework 2022-2026.
The signing ceremony took place during a two-theme event marking the 76th anniversary of the UN, held at the Palace of Brigades in Tirana. The meeting was organized by the Ministry of Europe and Foreign Affairs, the Office of the Deputy Prime Minister of the Republic of Albania and the UN Office in Albania, with the participation of key development partners in the country.
In the spirit of UN Day and the presentation of the Secretary General's latest report on the 'Common Agenda', aimed at strengthening governance for present and future generations, Deputy Prime Minister and Co-Chair of the Albania-UN Joint Executive Committee Arben Ahmetaj announced that the Government and the UN system in Albania have agreed on a new Cooperation Framework (UN) which will start this January and will last until 2026.
The new Cooperation Framework is based on Albania's top priorities, European Union membership and meeting the national commitment to the UN Sustainable Development Agenda by 2030 and its nationalized MDG-focused objectives for health. and quality education, good governance and the rule of law, public service delivery and response to the COVID-19 pandemic, and effective recovery. The Cooperation Framework aims to commit an amount of USD 282 million for the full cycle.
In his speech held at the signing ceremony, Mr. Ahmetaj praised the current cooperation between Albania and the UN and promised continued support for cooperation with the UN: "As we complete a successful cycle of joint work with UN agencies in Albania, we are ready to renew our commitment to sustainable development, " he said.
On behalf of the nineteen UN agencies and programs with or without representation in Albania, UN Resident Coordinator Fiona McCluney reiterated the key areas of work of the new Cooperation Framework and the urgency for action in achieving the Sustainable Development Goals.
"At the heart of our joint action is our commitment to fighting poverty, promoting human rights and gender equality, protecting the environment and tackling climate change and supporting economic and social reforms," ​​she said.
UN Day is celebrated worldwide on October 24 each year to mark the anniversary of the entry into force of the UN Charter in 1945. With the ratification of this founding document, the United Nations was formally established. This year the UN Day celebrations in Albania are held while Albania takes over the mandate in the UN Security Council for the next two years./ibna