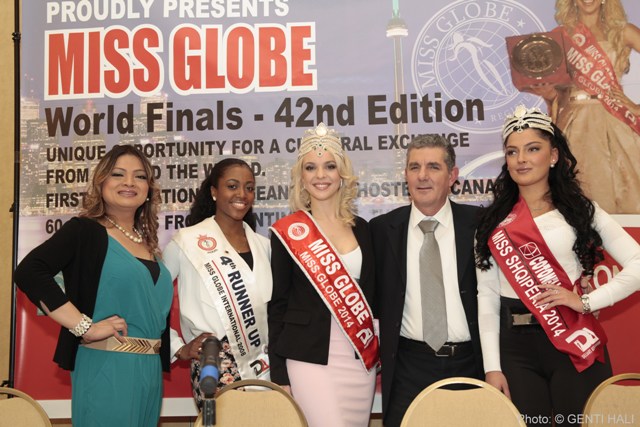 Tirana, February 20, 2015/Independent Balkan News Agency
Petri Bozo has considered the 11 years of the holding of "Miss Globe" in Albania as mission accomplished. The Albanian producer, holder of the patent of the international beauty contest, the third most important one in the world, this year will be the first Albanian to organize an event of such dimensions outside Albanian borders.
"Deliart Association" has signed a contract that will see the holding of the 42nd edition of "Miss Globe" in Toronto in Canada.
The same Albanian staff which for 11 years has organized the beauty contest in Albania, will be transferred in September to Toronto to organize this contest across the ocean now.
Around 60 countries of the world from five continents, will take their representatives to Canada and on 13 September to 4 October, this beauty contest will be held in Toronto, directed by Petri Bozo.
Today marked the first official conference (photo) in Toronto and the news was closely followed by different media.
"Miss Globe is a great world enterprise and is different to similar events held in the world: It's more than a beauty contest. Its founder, Charlie See, started it like a show, above all a social one, where each contestant, regardless of her social status, nationality or ethnic group, would fulfill a dream", said Bozo.
"It's a beauty contest that offers big chances for every girl around the world who has a desire and this is the foundation of Miss Globe, a tradition which has been going on for 41 years in a row. And it's very important for this tradition to be preserved. This is why we're here in front of you. I chose Canada because it's the most multi ethnic country in the world and very suitable for the nature of Miss Globe and this new mission serves to the formula and the ambition of this great spectacle. It's a relation that gives and takes", Bozo added.
The participants have also been greeted by the National Director, Mia Santa Ana Pilar, Albanian consul in Canada, Genc Tirana, Miss Albania 2014, Anisa Petrela and Miss Globe, selected in Shkoder last November, Jacqueline Wojciechowski. /ibna/