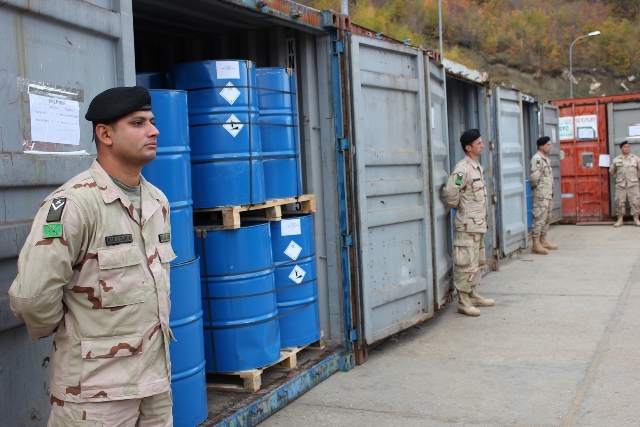 The chemical substances will be taken to Greece, Sweden and Portugal where they will be destroyed
Tirana, 27 May 2015/Independent Balkan News Agency
By Edison Kurani
Over 116 tons of dangerous chemicals have been gathered in the suburbs of Tirana in order to be taken in three other states with the scope of destroying them.
These dangerous chemicals are in Qafe-Molle, in the tourist mountain area of Dajti.
These chemical substances collected from military facilities all over the country, were safely packed and gathered in Qafe-Molle (photo) at the end of 2013, in the framework of a project of the OSCE presence in Albania, funded by several member states of OSCE.
Today started the transportation of the chemical substances in three countries-Greece, Sweden and Portugal-where their destruction will take place. Since 2008, Albania has made efforts to destroy excess conventional ammunition and poisoning chemicals.
OSCE presence has helped in the destruction of 60 tons of mélange (a toxic component of rocket fuel), 120 tons of dichloroethane and has offered equipment for the destruction of excess ammunition.
In November 2013, the Albanian government openly rejected a request launched by the United States of America to bring from Syria to Albania a chemical arsenal for destruction, for which authorities said that they were chemical substances that were not very dangerous.
PM Edi Rama had accepted the request of the USA, but when this was made public by foreign media, social reaction in Albania was very strong. Under these circumstances, Rama was forced to withdraw, stressing in an address for the nation that if this request was accepted, it would be an act of gratitude to the USA for what they have done for Albanians, but also for the benefits that Albania would have in many aspects. /ibna/