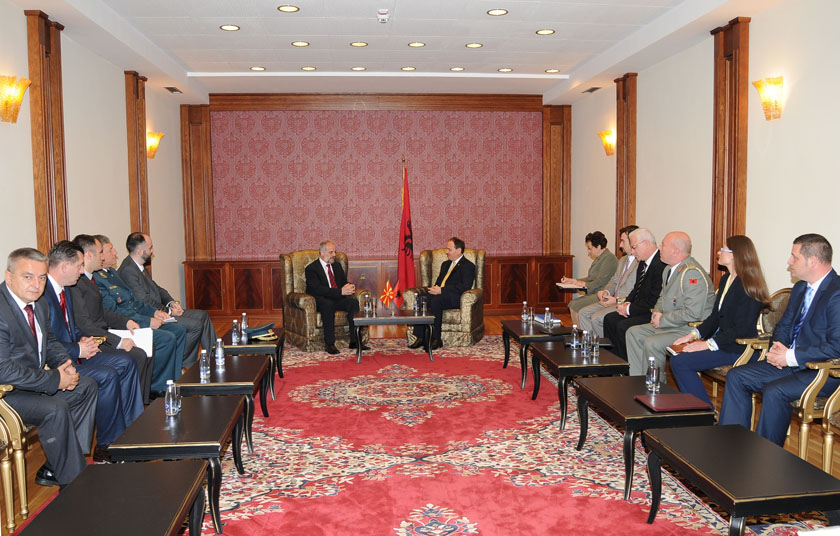 Tirana, May 14, 2013
The President of the Republic of Albania, Bujar Nishani received and held a meeting with the Minister of Defense of the Former Yougoslav Republic of Macedonia, Mr. Talat Xhaferi (photo).
The President of Albania appreciated the relations between FYR of Macedonia and Albania as excellent one and they are being developed in a successful way in the framework of the neighborly good relations and the strengthening of the regional collaboration stimulated by the processes of Euro Atlantic integration of our two countries.
In this framework Albania will continue to support the FYROM accession in NATO as totally deserved while hopping that the name issue with Greece will be solved soon.
The Head of State congratulated the Albanian factor in FYROM for the institutional support to the democratization process of the country and the necessary reforms for the European integration and praised the fact that the Albanians of FYROM see their future closely related to the future of this country.
On his part the Minister of Defense Xhaferi stated that the Former Yougoslav Republic of Macedonia is making progress in the reforms accomplishments and for the democracy development and the consolidation of the rule of law and hopes for the name issue to be resolved as soon as possible with a solution beneficial for both parties.
The two interlocutors shared the thought that the full implementation of the Ohrid Agreement, which is a spirit and philosophy for the development and the stability of FYR of Macedonia, compounds the foundation stone for a stronger FYROM and a democratic one, promising member of NATO and EU.
Also the President and the Minister Xhaferi appreciated the collaboration in the army in the regional framework of peace keeping and in experience exchange, the increasing standards of our armed forces, lowing to the costs of the missions and increasing the trust among the two countries and peoples.