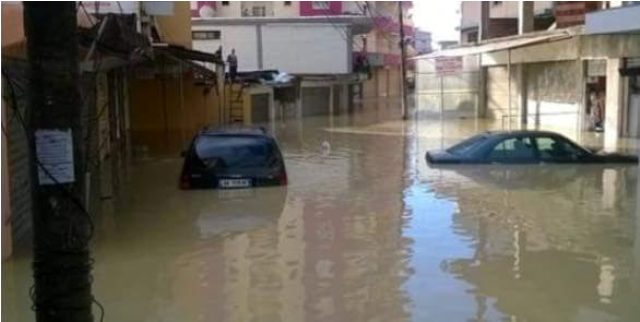 Tirana, 13 June 2016/Independent Balkan News Agency
Albania was struck in the recent hours by heavy rainfall, uncommon for the summer season. In several cities there have been floods, causing damages for a large number of businesses and households.
In the capital, the circulation of pedestrians and vehicles has become very difficult. In several streets, the presence of water blocked the movement of pedestrians.
Workers of the Municipality of Tirana have been engaged and are trying to cope with the situation. Mayor of Tirana, Erion Veliaj called on the citizens to call 112 for any emergency.
Even Durres awoke under water this morning, as a result of the floods caused during the night.
The heavy rainfall have caused eat difficulties in the circulation of people and cars.
In some parts of the capital, water was up to 40 cm high, while in the suburbs, the situation is more serious as a result of the rain and the lack of power supply.
A difficult situation is also reported in the coastal city of Vlora. The Trans-Balkan road and the city's boulevard are under water and impossible to be crossed by citizens and small vehicles.
Businesses on the first floor in these areas have been almost flooded. The pumps are working at full capacity, but the situation is very serious. In several areas of the city there are power cuts.
There have been power cuts in the city of Kavaja too. OST (Transmission System Operator) says that there has been damage in the 110 kv line.
Reports coming from Lezha also describe the situation as problematic. In "Beslidhja" quarter, there are several homes and businesses which have been flooded. Weather forecast predicts rain to continue throughout the date, but with different intensities in different cities. /balkaneu.com/