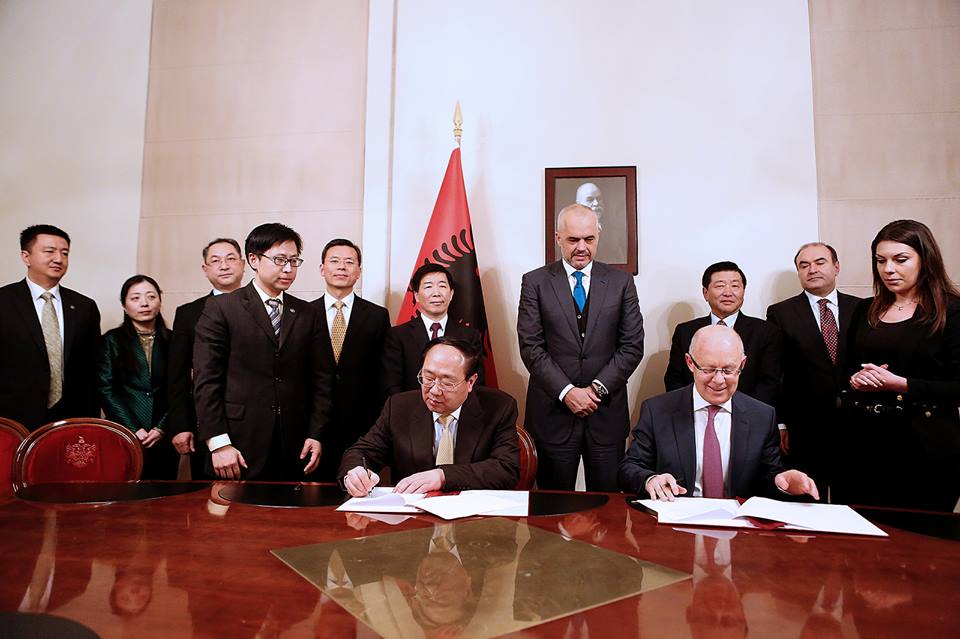 The opposition retorts with the prime minister about the highway also known as "Road of Arber"
Belgrade, December 16, 2014/Independent Balkan News Agency
Albanian authorities signed today in Belgrade (Serbia) a memorandum of cooperation with Chinese Exim Bank for the opening of a work site of projects in Albania funded by the Chinese (photo).
The first project will see the start of a new era of cooperation between Albania and China and this will be the Road of Arber. PM Edi Rama said that the work for the construction of the Road of Arber will start next year.
"Today, we finalize an effort which lasted a year and which led us to a new innovative formula for the funding of the Road of Arber. This formula will be proposed by the Chinese PM to several other countries that cannot increase their debt and offer sovereign guarantees", Mr. Rama said.
The PM also talks about a "number of other projects with the Chinese side", involving infrastructure and industrial areas.
Rama says that China has also offered support in agriculture through a significant fund for the rehabilitation of the irrigation and drainage system.
The leader of opposition and former minister of Transport, Lulzim Basha reacted about Mr. Rama's announcement for the "start of construction of the Road of Arber".
He published several photos that you will find below and for which he says that they prove that this road has started several years ago and that work has continued.
"The Road of Arber has started several years ago, but the same as the Boulevard and River of Tirana, the same as the highway linking Elbasan to Tirana and tens of other public works, it has been blocked, delayed and stretched out by the man who cannot stand great works".
Basha's declaration follows Rama's retort according to which, the construction of this road was another black hole in the chain of debts.
But, Basha also has an answer on this accusation: "The new government found debt at a level of 62% and took it up to 74% within a year".
The Road of Arber is a new highway which has started several years ago but the construction works slowed down following the 2010 floods in Shkoder. At that time, the government allocated the funds of this road for the rehabilitation of flooded areas.
The Road of Arber can be considered as the last highway that Albania needs. It's considered as an important segment for the majority of the north and northeast of the country. Currently, the journey from Tirana to Peshkopi, a town on the border with FYROM, takes around five hours. If the highway is built, the travel time is reduced up to three times. /ibna/