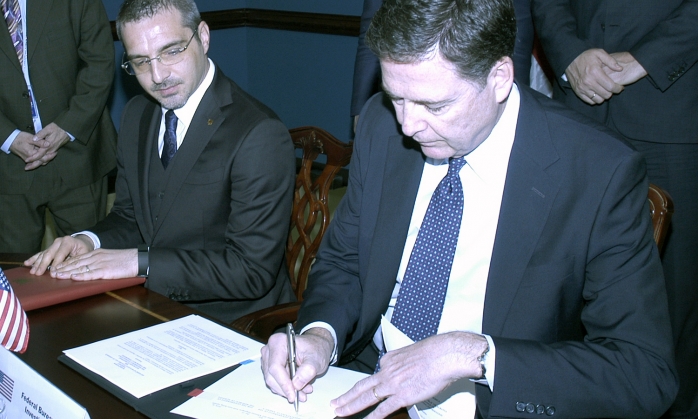 Tirana, 15 April 2016/Independent Balkan News Agency
The Albanian government and US Federal Bureau of Investigation (FBI) have signed a cooperation agreement in the framework of the fight against terrorism and organized crime.
This agreement was signed by the Albanian Interior Minister, Saimir Tahiri and the FBI's director, James Comey, in the presence of the Albanian PM, Edi Rama.
This is the first agreement of this kind signed by an interior minister throughout the history of relations between State Police and FBI.
Albanian authorities say that the scope of this agreement is to encourage the exchange of information for the verification of data in the fight against terrorism with the aim of strengthening joint efforts against terrorism.
According to this agreement, the sides will establish one or more points of contact between them. The Albanian side's point of contact will be the Anti-Terror Directorate at the State Police while for the American side, the point of contact will be TSC (Terrorism Screening Center).
The FBI director pledged his support for Albanian Police, especially for the training of Albanian police officers at the FBI academy, to offer constant training for Albanian investigators and the improvement of investigation infrastructure.
The FBI director also pledged that he will help for the establishment of the National Bureau of Investigation , the structure, human resources and its investigation capacities, as a very important Unit in the fight against corruption and organized crime. /balkaneu.com/