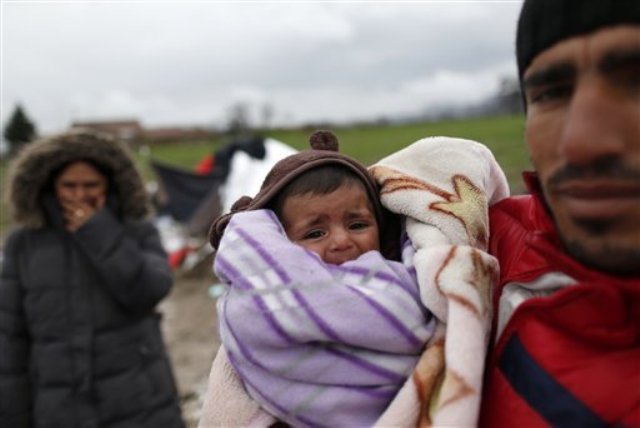 Tirana, 16 March 2016/Independent Balkan News Agency
By Edison Kurani
Albanian authorities have officially sought assistance from Italy for border controls in an effort to stop a potential swarming of refugees from war zones that want to reach Northern Europe.
Minister of Interior, Saimir Tahiri said today that Albania cannot face this wave of refugees on its own, therefore it needs help from the EU member countries.
"Albania has demanded Italy's aid to strengthen its borders and face different security problems that would emerge in case of refugees swarming the Albanian borders", Tahiri said.
Italian authorities were asked for technical support and personnel in the framework of the police assistance to control, register and verify refugees that enter the Albanian territory.
Tahiri says that Albania is waiting on a general decision on a European level for the management of the crisis, clarifying that Albania doesn't intend on opening its borders for refugees.
"Currently, the situation seems quiet. Police has boosted controls and for the moment, there have been no attempts by refugees to cross the Albanian border", minister Tahiri said.
Only several hundred refugees from Syria, Afghanistan and other war zones have managed to cross the Albanian borders in the past few months, but after paying to cross the border illegally to Greece and then cross into Albania to continue their journey to EU development countries, mainly Germany.
But a recent concentration of a number of refugees in the areas near the Greek-Albanian border has encouraged Albanian authorities to seek assistance. The Ministry of Interior fears a possible flux of refugees, following Skopje's decision to close the border for refugees that arrive from Greece, which is the starting point of the Balkan route.
As a result of these developments, Italian Interior Minister, Angelino Alfano will visit Tirana in the coming days, to discuss a joint reaction in case of a flux of refugees.
A group of experts of Italian police are expected to arrive to Albania in order to assess the situation in the Albanian-Greek border and the needs for assistance asked by the Albanian authorities, mainly in equipment for border control.
Tahiri and Alfano are expected to sign a cooperation agreement which includes among others issues of borders and migration.
European Commissioner for Security and Migration, Dimitris Avramopoulos is expected to hold talks in Tirana on Friday. The refugee situation is expected to be the focus of the visit that will be held by Mr. Avramopoulos.
More than one million refugees have arrived in Europe since last, by sinking the continent in the deepest emigration crisis since the Second World War. /ibna/