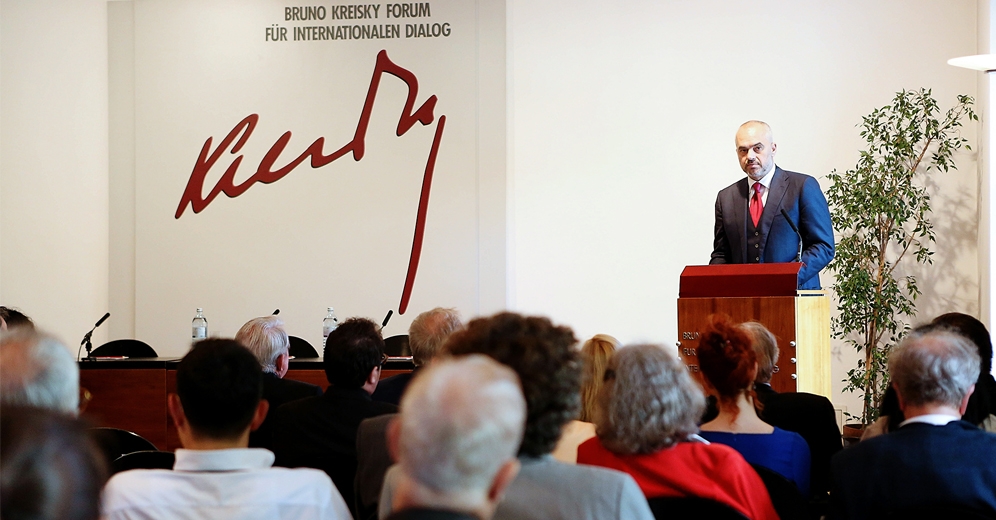 Tirana, May 13, 2014/Independent Balkan News Agency
Economic Vienna Forum, a platform of periodical debate on the present and the future of the European and global economy, has dedicated a special conference to Albania. President in this conference was also prime minister Edi Rama.
Rama saw this forum as an "extraordinary" possibility to present to potential Austrian investors the possibilities and advantages that Albania offers for investments.
In his presentation, the prime minister talked about the first urgent measures taken to stop economic slowdown, the development of a new economic model which is based on economic sustainable growth, reforms in the key sectors of the economy, etc.
Speaking on this forum (photo), Mr. Rama said that Albania needs a crucial change.
The Albanian government, said prime minister Rama, is working hard to establish the basis for a sustainable economic development and in these efforts, it has also been supported by international financial institutions.
Rama said that the government is holding talks with the World Bank in order to secure two loans for development policies and the reformation of the energy sector.
"With this support, we will eliminate in a short time, the hidden and inherited debts and we will also launch radical reforms in key sectors", said Rama.
The prime minister expressed his engagement to advance economic cooperation with Austria and Austrian enterprise.
"We want to benefit from the special relation between Albania and Austria in order to obtain support, but also to benefit as much as possible from the Austrian experience in the domain of professional training", said Rama.
For prime minister Rama, foreign investments are of a vital importance for the economy. For this, the government is maximally committed to offer an attractive environment for investments and to eliminate every obstacle which has previously made investors reluctant to come to Albania.
Therefore, he addressed an appeal to participants: "Test our commitment and come and do business to Albania".
The prime minister also considered the rebirth of the image of Albania as a challenge: "We have much to offer, but we also have a lot to do to change the negative perceptions, therefore we will do our best to achieve this."
While considering European integration as the joint perspective of all the countries of our region, the prime minister expressed his conviction that a successful integration requires an active cross regional communication.
"The EU is the best perspective for the Balkan, but Balkan will also be good for the EU. And this is the message that I want to convey", said Mr. Rama. /ibna/