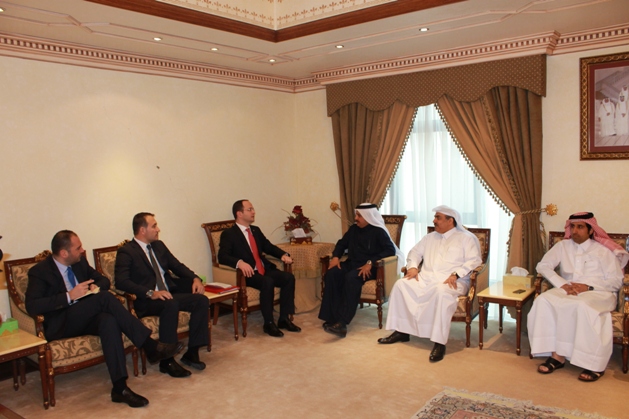 Tirana, February 10, 2014/Balkan Independent News Agency
Albanian authorities have focused their attention on the rich Arab countries and want to resume negotiations with Qatar, one of the most powerful countries of the Arab world. For this, the Minister of Foreign Affairs, Mr. Ditmir Bushati had a two day visit in the state of Qatar, where he had several meetings with representatives of the authorities of Qatar. This visit anticipates the visit that Premier Rama soon plans to make in this country.
In the meeting (photo) with the chairman of the Chamber of Commerce of Qatar, Sheikh Khalifa bin Jassem Mohammed Al Thani, minister Bushati stressed the "need to renew contacts between the sides".
On his part, the chairman of the Chamber of Commerce of Qatar underlined that the need for new markets will encourage cooperation in the domain of commerce and industry between our two countries. He expressed his readiness to host in Doha a joint business forum, during the visit of Premier Rama in Qatar.
During the meeting with the representatives of the National Investing Authorities of Qatar, minister Bushati had a meeting with the chairman of this authority, Ahmed Al Sayed, where both sides agreed on identifying the domains of interest which would further enhance bilateral cooperation.
Minister Bushati made a presentation of the comparative advantages that Albania offers for foreign investors. The representatives of Qatari National Investing Authorities expressed their interest to hold with the Albanian government and domestic business joint projects in the domains of mutual interest.
Foreign Minister Bushati was also received in a special meeting by the General Director of Qatari DIAR, Mr. Khaled Mohammed al Sayed. This authority focuses on the investments in the domain of hotels and tourism and properties. During this meeting, minister Bushati stressed the need to strengthen economic ties and encourage the arrival of Qatari investments in the sectors of tourism and services. /ibna/