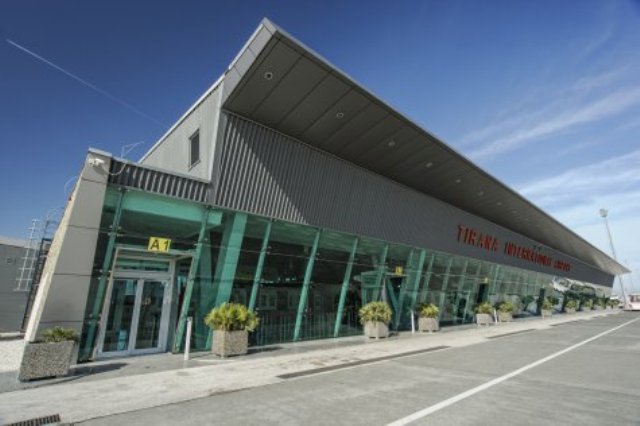 IBNA Special Report
Tirana, March 26, 2015/Independent Balkan News Agency
By Edison Kurani
Rinas international airport in Albania has seen a rise in the number of passengers in 2014. The concessionary company says that 1,8 million people have traveled from this airport, the only one in Albania.
Many people say that flights to and from Tirana are expensive. Airport senior officials say that the 10 Euro tax that the state receives is unfair, as this tax is only applied in the airport and not in land or sea borders. Citizens say that low cost companies must be allowed to be introduced, but TIA has the exclusivity of flights for another 20 years. However, its officials say that they are open for negotiations with the authorities. The government says that efforts are being made, but its officials say that Albania is not a very strong market to have low cost airliners.
Growing figures
The number of passengers that used the international airport of Rinas, according to the statistics of Tirana Airport Partners, amounted in 2014 to 1,810,301 passengers. The number of registered passengers in 2013 was 1,757,342.
On the other hand, TIA reports a drop in the volume of air traffic in 2014. In the past 12 months there were 17,928 flights as opposed to 19,942 in 2013.
Meanwhile, the cargo transport was 2 324 tons seeing a slight increase in 2014.
50 flights land in Rinas on a daily basis, while another 350 other flights go through the air territory.
Only one airport
Albania has only one civil airport, which offers only international flights. This airport offers direct flights to several cities of Italy, to Athens, London, Vienna, Belgrade, Ljubjana, Paris, Brussels, Munich and Frankfurt.
The airport has six exits and one entry. It also has a section for VIP passengers.
The airport was taken by a foreign company 10 years ago through a concessionary agreement for a period of 30 years.
More than a decade ago, a free funding from Arab states enabled the construction of Kukes civil airport, but it was never opened for business.
Several small airports have existed in Albania many years ago, but they have been destroyed.
Many people are surprised about the fact that a country with tourist attractions has no airports in the main cities such as Vlora, Saranda, Korca, Shkodra, etc.
A tourist that arrives to Tirana by plane, is forced to travel at least 5-6 years by car in order to reach the beaches of Saranda, thus travelling on different segments, full of difficult turns which are often a source of accidents.
If a tourist chooses Voskopoja in the southeast of the country, he must travel 4 to 5 hours in order to enjoy the mountain beauties, in a road which is partially amortized and with an infrastructure which is still modest.
Will low cost companies arrive to Albania?
In neighboring airports such as in Skopje, Podgorica and of course in Italy and Greece, there are low cost companies that offer flights to Europe and other continents.  In Skopje, the government pays a subvention for each incoming tourist at the airport in order to promote tourism in Macedonia. This explains the low air ticket price offered to passengers.
Albania has no such airliners.
Fabio is a young Italian who says that he often travels to Tirana, as he is engaged to an Albanian girl. He says that he pays more to travel to Albania as opposed to travelling to other European countries.
"In order to come to Tirana, by buying a two way ticket three months in advance, I must pay 200 Euros. If I go for a weekend in Barcelona, I must only pay 38 Euros", says the 28 year old from Bergamo.
Like Fabio, there are many others who claim the same thing. Rolf Castro-Vasquez, Chief Executive Officer of TIA, comments this concern which is often raised. According to him, "Tirana International Airport applies moderate charges for ground handling for airline companies, but I would not consider these charges as high as often claimed".
But, what determines the price of an air ticket?
Rolf Castro-Vasquez says: "It is important to say that Airport charges represent only a fraction of the total, when compared to other important determining and influencing factors that affect an air ticket price. The charges applied to an airline company by TIA constitute a maximum of 15% of the total cost that the airline has to spend for a route and destination. It is obvious and must be stressed that this percentage cannot determine or influence the air ticket price offered by an airline company; there are other determining factors that define directly and indirectly the total ticket price, such as the internal airfare policy of the airline company, and includes destination airport charges, fuelling, aircraft maintenance charges, crew and staff, marketing and other related costs.
Why do we not have some low-cost airlines operating at TIA?
He says that such airlines base their business model on economy of scale, earning a return by serving a large number of passengers. "It is challenging in Albania to provide a large number of passengers for a mass market for the whole year. The traffic peaks in July and August and December", he says.
But will Albania ever have low cost companies?
Officials of the Albanian Ministry of Transport say that such companies require a large market which doesn't exist in Albania. According to them, the number of Albanians who travel is small and the market is not that big, because the country is small.
But how true is this? Podgorica is the capital of a small country three times smaller than Albania, however three low cost companies offer regular flights from this airport.
Ministry of Transport told IBNA that efforts are being made to bring low cost companies in the country. They say that they have launched talks with German company TIA, which has the exclusive right for air flights, in order to introduce low cost airlines. Sources from the Ministry of Transport says that efforts are being made in order for this concessionary company to invest in the infrastructure of an airport for low cost flights. So far, it has not yet been decided as to where it will be invested to create the infrastructure for such airport, but it's been thought to choose the area of Kukes, which has one airport, that of Gjirokaster or that of Saranda.
Minister of Transport, Edmond Haxhinasto says that the aim is to build one in the south due to the high number of tourists. "Our objective is to be able to build an infrastructure which will then offer international flights, especially in the area of south, which is an area with a big tourist potential, but which for the moment, is far from being accepted by the main and only international airport of the country".
The beginnings of air civil transport in Albania
The Air Civil Transport in Albania dates back to November 1924 with the signing of the government agreement between the Republic of Albania and German Airline Company "Lufthansa". Based on this 10 year concessionary agreement, the Albanian airline company "Adria Aero Lloyd" was created. In the spring of 1925, after building a grass field 200 meter long in Tirana, the first domestic flights to Shkoder and Vlora started to take off.
In August 1927, "Adria Aero Lloyd" was acquired by the office of Civil Air Traffic of the Ministry of Air in Italy, which expanded the number of destinations to other cities such as Elbasan, Korca, Peshkopi and Gjirokaster and also to international destinations such as Rome, Milan, Thessaloniki, Sofia, Belgrade, Podgorica.
In 1934, works started for the construction of the Airport of Tirana in the suburban area of Lapraka. This airport was opened in 1935 and took its official name "Rinas Airport" for military purposes. Later, it was passed under the administration of the Ministry of Transport and was turned into a civil airport.
Civil airlines that have operated until 1960 were Aeroflot, Jat, Malev, Tarom and Inteflug.
From 1960 until 1978, several airlines had to stop their flights due to the impact of politics. As a result, the number of flights and passengers went down.
During 1989, 1991, as a result of political changes in eastern countries, Republic of Albania adhered to ICAO (International Civil Aviation Organization). /ibna/
Photo: 1939, when Albania had its first airport
On this photo you can see Tirana airport which was built in 1934. The photo  shows three engine planes and Italian troops. This airport was used for flights mainly by Italian military troops.  The photo is on the archive of the Lucce institute in Italy.