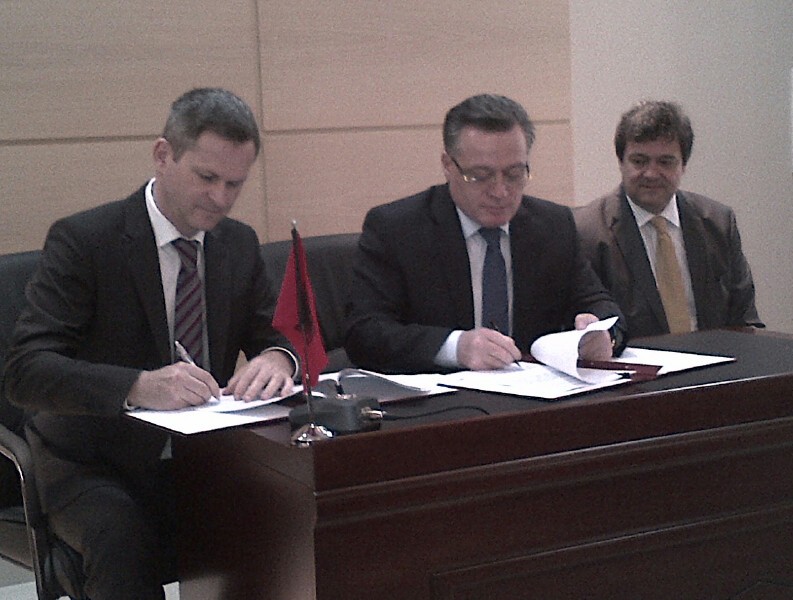 Tirana, 9 April 2013
A loan agreement for the financing of an electronic taxation project was signed in Tirana on Tuesday. The amount of the fund accorded by the Austrian government through Bank der Oesterreichischen Sparkassen AG, is €10,3 million.
The Agreement was signed by the Albanian Minister of Finance, Ridvan Bode and by Thomas Oberndorfer, Manager of Transactions at Bank der Oesterreichischen Sparkassen AG, on behalf of the Austrian party.
This project is part of the e-government Strategic Program of the Albanian government, funded by the Austrian government in the framework of the bilateral agreement for Financial Cooperation, signed on 7 December 2010.
The objective of the Project is to implement a new taxation system to fulfill functional and legal requirements according to European standards and to offer contemporary services to the taxpayers, enabling the approximation of legislation and procedures with the EU standards.
Mr. Bode said that "the project will ensure the upgrading of the current system and sub – systems in use by the tax administration and tax – payers, thus enabling the administration performance enhancement and a more efficient gathering of income".
Purchase of such a system offers the advantage of implementing legal and technical criteria within a short period of time, in combination with wide flexibility scale for changes in the future, by offering better quality public services at a lower cost."
Thomas Oberndorfer said that this is a very important agreement for Albania and added "We are proud to conclude this important agreement within such a short period of time." /ibna/