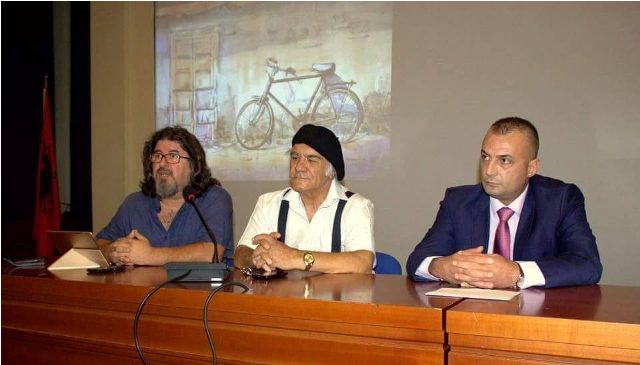 Tirana, 14 August 2015/ Independent Balkan News Agency
The International Festival of Aquarel takes place in Albania with the participation of 161 painters from 51 countries of the world. The director of this festival, Helidon Haliti, head of the Committee for the Evaluation of Applications, Skender Kamberi and director of the National History Museum, Melsi Labi, said that this activity will start in November.
The festival will take place in the House of Congress.
Painter Heldon Haliti says that over 260 painters from 51 countries applied to participate in the festival. Meanwhile, only 5 artists from Albania have applied.
"Given that we have great names of the world aquarel, we have selected through our committee a total of 161 names who will come to Albania", Haliti says.
For the head of the Evaluation Committee, Skender Kamberi, artists have been selected based on good paintings, in terms of artistic value and quality.
"It's the first time that a safe step is taken on a global level. We are not known in the world, we have not invented anything in crafting or medicine. This is a big national step. The world will know us. This is a big favor that we're doing to our nation. The merits go to the organizing staff and institutions that have backed us. We are demonstrating our European taste. We're not amateurs, therefore we must be represented through a serious and dedicated work", says the notable painter, Kamberi.
One of the contributors to this activity is the National History Museum, which will offer its hall for this activity. The director of the National History Museum, Melsi Labi, said that the support for this project comes in the framework of government policies to support art and culture. "I'm happy that we managed to organize the International Festival of Aquarel at the National History Museum. Altogether, we will do everything in order to exhibit these works at a later period in other places", Labi says.
According to him, what's important is for Albania and the National History Museum to be recognized internationally, thanks to artists and institutions that come together in order to organize such world activities.
For the member of the Evaluation Committee, painter Qamil Prizreni, the Aquarel International Festival is a very major event, because six decades have gone by without paying attention to this form of art.
"The art of aquarel was perceived as something small, because at that period, art was only perceived in the form of oil paintings. Aquarel is also art, in small dimensions, but which produces great art", Prizreni said. /ibna/