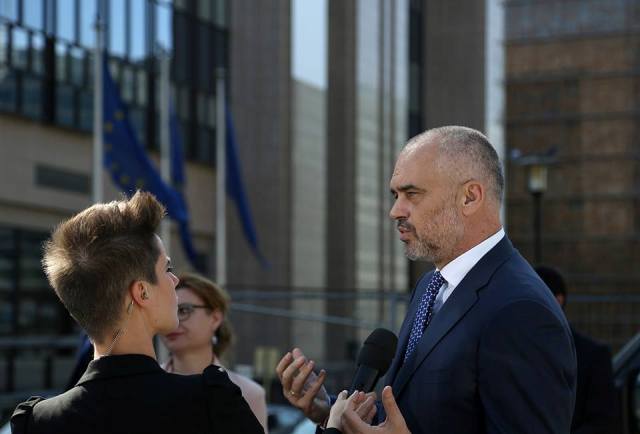 EU Enlargement Commissioner, Johannes Hahn says that "this is up to Albania"
Tirana, April 22, 2015/Independent Balkan News Agency
The Albanian government is convinced that it's ready to start negotiations for accession in the European Union, while Brussels believes that it's up to Tirana to deliver the five priorities.
Prime Minister  Edi Rama said that after the Brussels summit, "we strongly believe that we're ready to start the negotiations". He said that in spite of Albania's progress, the start of negotiations remains a political decision for Brussels.
Thus, Mr. Rama believes that EU's internal problems are the cause for this. "Europe is going through a very special moment. Whatever we do and whatever they say, this is not a technical decision, but a political one, which relates to the ego of many countries, personal interests or ego centric viewpoints", Mr. Rama says.
"The most important thing is that we're ready to start these negotiations", he stressed.
The head of the Albanian government is optimistic that something will change in autumn and that the opening of negotiations will be submitted for discussions. In contrast to Mr. Rama, commissioner Hahn says that this is still up to Albania.
"As you know, Albania has five objectives and a good job is being done for them, especially on the reform in the justice system, which seems to be advancing well. We're on the right path", said Mr. Hahn after a meeting with the Albanian PM.
In Brussels, Mr. Rama also held a meeting with the EU chief of diplomacy, Federica Mogherini. They talked about the political developments in the country and the reforms that Albania is making, especially after being granted the EU candidate member status last year.
Mr. Mogherini said that Albania has a clear European perspective, adding that with Rama, she discussed "on the right way to move forward in this process".
Mogherini too didn't mention any possible dates for the opening of negotiations. /ibna/