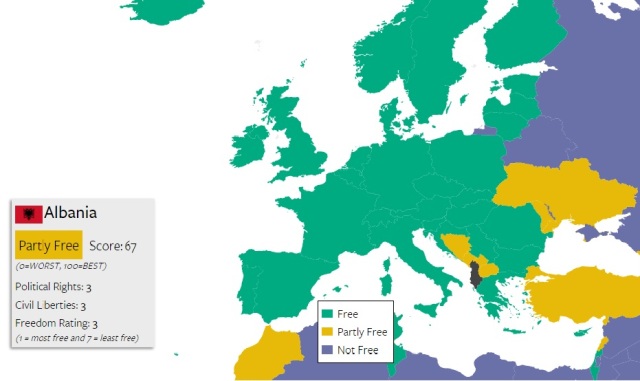 The latest report of Freedom House is published
Tirana, 27 January 2016/Independent Balkan News Agency
Freedom House organization has ranked Albania among the partially free countries for 2015.
Part of the same category are also countries of the region such as Kosovo, FYR Macedonia, Montenegro and Bosnia and Herzegovina. This time, Serbia has ranked among free countries.
On a scale from 1 to 7 where 1 represents the maximum amount of freedom and 7 represents maximum lack of freedom, Albania has been given a rating of three points.
In the report published on Wednesday (27.01), Kosovo, Bosnia and FYR Macedonia are mentioned as countries with non functional governance.
According to Freedom House, last year was the tenth in a row during which there was a fall of the level of freedom in the world, mentioning the terrorist attacks occurred during 2015.
The report also points out what Freedom House considers as a lack of ability by Europe to cope with the wave of asylum seekers from Syria and other areas affected by conflicts.
The report also includes 195 countries, out of which 86 are ranked as free countries, 59 are ranked as partially free countries and 50 as countries which are not free. /ibna/