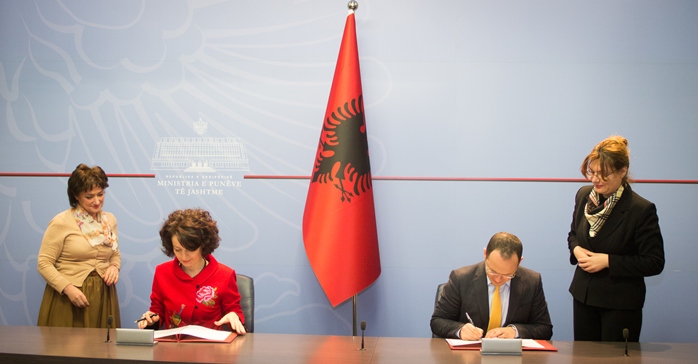 Tirana, February 24, 2014/Independent Balkan News Agency
Minister of Foreign Affairs and Minister of Urban Development and Tourism are working together to promote the tourism of Albania in all the diplomatic centers of the country throughout the world.
The memorandum of understanding between the two ministries, signed by minister Ditmir Bushati and minister Eglantina Gjermeni was signed today (24.02) by the two ministers (photo).
This memorandum focuses on the promotion of the country through the diplomatic corpus accredited abroad.
Tourism experts say that this will be a good start to make Albania known and to bring more tourists and increase investments in this market.
Foreign Minister Bushati says that it's time for an organized outreach.
"We're engaged and we will continue to encourage our diplomatic personnel to work and to inform all foreign citizens over the opportunities offered by tourism in Albania", said Bushati.
Besides this memorandum, Ministry of Urban Development and Tourism along with the national Agency of Tourism has planned to review all current promoting materials in order to improve their quality and increase the number of materials easily accessible in different languages.
National Agency of Tourism will equip all our embassies with promotion material.
"We pledge to work together to promote tourist and cultural values of Albania abroad in order to make Albania a tourist destination in the international map of tourism", said minister Gjermeni.
She said that this promotion will also be achieved by coordinating activities with the National Agency of Tourism and our diplomatic centers, by holding meetings, seminars, international conferences, fairs, etc.
Ministry of Urban Development and Tourism will put in every diplomatic center of Albania promoting materials, brochurs and leaflets or promoting videos which will show the values of Albanian tourism.
Tourism in Albania is almost unorganized. Tourists mainly consists on Albanians who live in emigration and tourists coming from the Balkan region. In the recent years, there's been an increase in the number of non Albanian tourists, but they have faced with a chaotic situation: bad roads, a miserable infrastructure of services, a lack of tourist information, lack of drinking water, shortages in power supply, poor hotel services, poor services in restaurants and high prices.
Several experts consider the hotel and restaurant services, the lack of experience in these fields, the lack of trained staff as the main problem.
These along with the missing qualification of staff have a negative impact in offering quality services. /ibna/